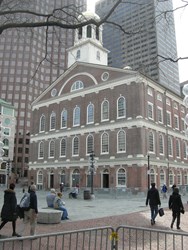 When in the market for leather bags, David King marks one of the finest, and with discount prices The Leather Shop At Faneuil Hall stands as the best retailer to buy from.
Boston, MA (PRWEB) November 30, 2013
The Leather Shop At Faneuil Hall Boston launched a new website for customers to learn more about the store and for both local patrons and those who can't visit Boston to buy leather bags online. Financial Firebird Corporation provided the programming for the site as well the credit card processing without monthly fees and online shopping cart integration. The Boston leather shop as well as the online store both feature leather bags and leather packs from David King And Company, based in Boston.
Not only does the Leather Shop At Faneuil Hall offer one of the most complete selections of David King leather bags both in their Boston leather shop location and online, they offer very low prices and free shipping for all internet purchases regardless of the size of the online order. Choose from leather duffel bags, handbags, leather backpacks, garment bags, luggage sets, leather fanny packs, shave kits, agendas and leather messenger bags. These David King messenger bags and computer bags rank as favorites of some patrons who have already taken advantage of the store's discount prices.
David King And Company was founded in the 1970's, becoming the largest importer of South American leather in the US. Their corporate offices and primary shipping/receiving facilities are located in Boston's historic leather district, on Beach Street, across from South Station, a few blocks east of the Boston Broadway Theater District. In 1975, David King And Company began manufacturing leather goods in the Historic Boston Leather District at 127 South Street. It is so named due to the dominance of the leather industry for one hundred years in Massachusetts. David King's building was originally built in 1880 for the Irving Tanning Company . It was then purchased by the Slattery Bros. who manufactured and sold calfskin to the shoe trade. Finally, in 1980, David King purchased the building with five other people. Thus, continuing the tradition of keeping a leather company in the building for 130 years. It is in this location that they began exclusively manufacturing for the wholesale trade. All products are designed in Boston but due to costs, 90% of their items are now manufactured internationally while 10% are manufactured domestically in the Boston area. They have been located in Boston for over thirty–five years remain the only leather company still operating in the historic Boston Leather District.
Daily management and operations for The Leather Shop At Faneuil Hall rests with Arnold Marcus who has been retailing in the Faneuil Hall Marketplace area since 1979. His first business was making and selling leather goods including belts and buckles on a pushcart in Faneuil Hall Marketplace. He has operated other businesses in Historic Faneuil Hall and this area for over thirty–four years. Along with The Leather Shop At Faneuil Hall Mr. Marcus also manages the the Greetings From Boston card and gift store in Faneuil Hall.
When in the market for leather bags, David King marks one of the finest, and with discount prices The Leather Shop At Faneuil Hall stands as the best retailer to buy from. Online purchases are easy and with no shipping charges, even on a small leather pack, the experience feels even better. Visit in their Boston leather shop or on the internet for a long lasting purchase to enjoy for many years to come.
About Financial Firebird Corporation
Financial Firebird Corporation provides unbiased consumer information, software and marketing services for the mortgage, debt, foreclosure, auto lending and other financial, travel and entertainment including TD Garden tickets and other Boston events or real estate related industries as well as basic marketing, financial and website services including business loans for all companies. Established 2000 and a proud BBB member.