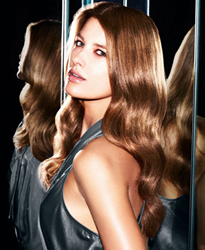 With Balayage, our colorists deliver just that: Sexy, sunny highlights without a huge time commitment.
Orlando, FL (PRWEB) June 26, 2014
Warm summer days practically beg for natural, sun-kissed hair color. At Orlando hair salon True Envy, when the client ask for ―just from the beach highlights, a trained service provider knows the guest wants to lighten their hair in the most low-maintenance way possible. With Balayage, the colorists delivers just that: sexy, sunny highlights without a huge time commitment.
During a Balayage service, the color specialist sections the hair without the use of foil, and then paints color on each section of hair. Without a uniform pattern to follow, the result is incredibly natural-looking, with the hair fading to light all the way down to the ends, as if it had been lightened by the sun.
"Anyone who desires a back-from-vacation look all summer long will love Balayage. Your highlights will look natural and sun-kissed, even if you've spent the entire summer away from the beach." - Ramar Russell
Balayage is perfect for year-round blondes who want to enhance their color with an easy, beachy feel, and for brunettes who want to subtly brighten their deeper shade. As the highlights grow out, darker roots aren't obvious, which means you can stretch time in between salon visits. Visit True Envy Salon now to schedule your summertime Balayage service.
Clients interested in a new look, a color consultation, or the latest trends in hair can reach True Envy Salon at the information listed below.
True Envy Salon
4997 S. Orange Ave.
Orlando, FL 32806
Phone: (407) 286-4857
Email: Salon(at)trueenvysalon(dot)com
Website: http://www.trueenvysalon.com
Online Appointments: http://www.trueenvysalon.com/online-booking/
About True Envy Salon:
True Envy Salon is a full-service hair salon located in Orlando, Florida. True Envy Salon is dedicated to service and value. All of the licenses specialists promise individual attention and a great value for their customers. The services provided by True Envy Salon include hair care services, bridal services, the makeup palette, and other a la cart salon treatments.