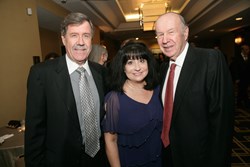 "We are so grateful to our honorees, sponsors and donors for their continued support," said Michael Rozen, United Hebrew Chairman of the Board, "Thank you for standing with us to fulfill United Hebrew's exceptional mission and service to the community."
New Rochelle, NY (PRWEB) November 06, 2013
United Hebrew of New Rochelle, a premier multi-service senior living campus, recently held its 94th Annual Gala Celebration at the Hyatt Regency in Greenwich, Connecticut. Awards were presented to Signature Bank, accepted by its President and CEO, Joseph J. DePaolo and Jon Schandler, Chief Executive Officer of White Plains Hospital. United Hebrew's Vice President of Nursing and Clinical Services, Patricia McCormack, RN received a Lifetime Achievement Award in recognition of her dedication and commitment to United Hebrew. These individuals and their organizations enhance the lives of those in our community through their exceptional abilities and dedication to programs and services that uplift our society.
"We are so grateful to our honorees, sponsors and donors for their continued support," said Michael Rozen, United Hebrew Chairman of the Board, "Thank you for standing with us to fulfill United Hebrew's exceptional mission and service to the community."
Michael Rozen welcomed the enthusiastic guests while introducing the honorees. "You partner with us in enhancing the life of each resident entrusted into our care," said Rozen, "To fill their days with dignity, kindness, respect and love."
With over 300 guests, the event raised $525,000 to support United Hebrew's residences, programs and services for frail and chronically ill seniors across its 7.4 acre campus. Guests danced to the music and entertainment of Total Entertainment.
United Hebrew of New Rochelle skilled nursing home has 176-private rooms and a dedicated 44-bed short-term rehabilitation suite staffed by nationally-renowned Burke Rehabilitation professionals. The facility mimics individual neighborhoods, creating a strong sense of community. Many of the rooms come with a beautiful view of the Long Island Sound. Each room is fully equipped with wireless internet access; a resident activity center is fully equipped with a library, arts & craft room; a 2,300-square-foot multi-purpose room. A café and a beautifully-landscaped courtyard are accessible to all residents and their families.
United Hebrew is located at 391 Pelham Road, New Rochelle, New York 10805. For further information, please contact Grace Ferri at 914.632.2804 x. 1190, e-mail gferri(at)uhgc(dot)org, or visit http://www.uhgc.org.
About United Hebrew of New Rochelle- The Harry and Jeanette Weinberg Campus
United Hebrew of New Rochelle is a not-for-profit, non-sectarian, multi-service senior living campus serving the Westchester metropolitan area since 1919. United Hebrew offers a rich array of skilled and community-based programs and services that encourages and supports a life of dignity and spirituality and promotes the highest possible quality of life. United Hebrew serves over 700 clients daily in its Harry and Jeanette Weinberg campus facilities including Willow Towers, The Beverly and Alfred J. Green Pavilion, a New York State licensed assisted living residence; a 296 – bed nursing and rehabilitation center staffed with Burke Rehabilitation professionals; a 135 – unit Soundview Apartments for seniors; and AZOR Licensed Home Health Services. For more information visit http://www.uhgc.org or 914.632.2804 x1190.