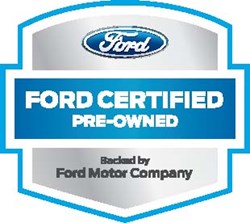 A Ford CPO vehicle can now be protected by a Ford ESP Premiumcare plan to a maximum of 9 years or 125,000 miles
Barkhamsted, CT (PRWEB) November 05, 2013
Lombard Ford, provider of Ford ESP, the official extended service protection program of Ford Motor Company and a leader in innovative vehicle protection products, has done it once again. This time, their innovation is aimed at the certified pre-owned vehicle marketplace.
The new 2014 Ford ESP Program was rolled out to dealers on October 2nd and it brings with it an exciting product enhancement. Ford ESP will now offer upgrades to 8 or 9 years of protection for the consumer that buys a Ford Certified Pre-Owned vehicle from one of the 3,300 plus Ford dealers throughout the United States. These new time terms can be coupled with plan mileage selections of up to 75,000, 100,000 or 125,000 miles, allowing the consumer to customize a plan that best meets their driving needs.
In recent years, the marketplace has seen the sales of factory certified pre-owned vehicles grow dramatically, and that trend is expected to continue into the future as more consumers find it a better value to buy a factory certified used vehicle rather than one without this kind of certification and coverage.
A Ford CPO vehicle undergoes a thorough 172 point inspection check. It then comes with a 7 year / 100,000 mile powertrain warranty from the vehicle's original warranty start date and a 12 month / 12,000 mile Ford ESP Premiumcare protection plan as well. There is a $100 deductible per repair visit with both plan coverage's.
Here is how the coverage works:
The powertrain warranty coverage period is for 7 years up to 100,000 miles from the vehicle's original factory warranty start date.
Now, if the CPO vehicle is still within the factory 3 year / 36,000 mile warranty at the time of purchase, then the 12 month / 12,000 mile Premiumcare coverage gets added to the end of that warranty period.
However, if the CPO vehicle is already beyond the 3 year / 36,000 mile warranty, then the 12 month / 12,000 mile Premiumcare plan will begin on the CPO vehicle purchase date and the 12,000 miles get added to the odometer reading to establish the expiration mileage of the Premiumcare coverage.
With this new enhancement to Ford ESP coverage for CPO vehicles, a consumer now has the ability to configure a period of protection for a greater amount of time than that which is available to brand new vehicles where the limit is 7 years. These 8 or 9 year plans help assure the vehicle will still be protected if the purchase was financed for a longer period of time, which may not have been the case in the past.
The bar has been set pretty high in the marketplace by Ford Motor Company in regards to the amount of protection available to the certified pre-owned vehicle buyer. It is certain that other automobile manufacturers will be watching this closely.
To explore the options and see how affordable it can be to upgrade Ford Certified Pre-Owned vehicle warranty coverage before a vehicle purchase decision is made speak with the Ford ESP experts at Lombard Ford at 1-866-379-7095.
About Lombard Ford, Inc.:
Lombard Ford, Inc. is an award winning Ford dealer in Northwestern, CT since 1982. Their Internet ESP office is staffed with courteous and knowledgeable personnel who have first-hand working experience in a variety of positions within the industry such as, automotive service advising and service management, new and used vehicle sales, vehicle sales management, finance and insurance sales and customer service and sales support. For more information, visit http://www.lombardfordwarrantys.com.