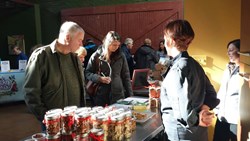 Evanston, IL (PRWEB) December 18, 2013
Now We're Cookin's Food Business Incubator continues to stretch beyond the typical shared kitchen space model. Along with providing a production environment for food entrepreneurs to research, develop and produce their culinary concepts, NWC has been expanding its suite of services to help these businesses launch and successfully penetrate this competitive marketplace.
Services now include:
-Training programs such as Introduction to Food Entrepreneurship and the 4 week Food Business 101
-Workshops on recipe scaling and volume production techniques
-Seminars on developing product pitches and market presentations
-Guest lecturers and experts providing assistance with industry specific topics such as Nutrition Labeling and Packaging
-Private consultations to help with financial projections, marketing strategies, and social media
-A wide range of resources through which clients receive discounts from Partners and faster transitions into market spaces and onto store shelves.
NWC has also opened its space for specialty events where clients are able to test out and sell their products from within the facility. The recent Small Business Saturday event offered the opportunity for 12 food entrepreneurs to get a head start on holiday sales and build their client base. Through these events, the Incubator is expanding its empowered community of food entrepreneurs.
The recent influx of interest in utilizing Now We're Cookin's space for cooking shows, photo shoots, overflow/emergency commercial product production, chef training and private corporate events has inspired the company to continue to explore innovative new uses for its kitchens. After celebrating 6.5 years of success in the Evanston /Chicago area, NWC plans to continue adding new offerings and building an even stronger network for its food business incubator clients and all those Chicago-area firms in need of kitchen space.