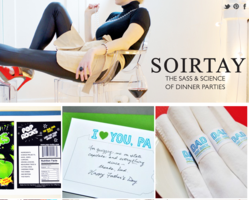 ... Soirtay is like Martha Stewart and Sex and the City thrown together in a food processor. It's edgy DIY and smart menu planning with an urban focus."
Chicago, IL (PRWEB) July 01, 2013
Soirtay's design duo are on a mission—in their words—"to resuscitate the art of hosting dinner parties." But with design concepts like theirs, it looks like they won't need to use any CPR in the near future. Their original concepts and edgy aesthetics have already shaken things up within the entertaining scene. This July, leading design blog, Soirtay, released its first comprehensive party "blueprints" through the lifestyle blog at http://www.soirtay.com. The Fourth of July themed release drew immediate attention and fireworks in the co-creators' hometown of Chicago along with a lengthy feature by Daily Candy.
"When first introducing Soirtay to anyone we have to tell them how to pronounce it," says co-creator, Kate Sprouse. "We coined the new term (a blend of soiree and part-ay) because there's nothing out there like what we're designing and obviously no name for it either."
Her creative partner Elaine Frei adds, "People immediately get it once we say that Soirtay is like Martha Stewart and Sex and the City were thrown together in a food processor. It's edgy DIY and smart menu planning with an urban focus."
Urban, edgy and definitely smart—the Fourth of July blueprints provide all the colorful instruction a host needs to entertain with style and, most importantly, ease. From DIY décor 'how-tos', through creative, tasty menus—readers can get the style tips and even the itemized grocery list for a modest $6 this week.
Why dinner parties, you ask? Well according to the Soirtay Chicks, "A dinner party really is the best kind of party. It's a gathering at which the host can still have fun. After all—the person throwing the party really should have the most fun, in the best shoes. We always say 'cheers' to that."
New Soirtays are featured each month at http://www.soirtay.com and a full web site offering even more ideas and resources is on the calendar for 2014.