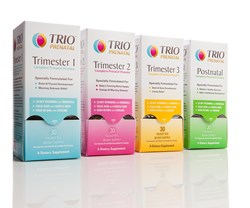 Trio Prenatal was developed with the latest scientific research in mind.
Orem, UT (PRWEB) January 29, 2014
Trio Prenatal enters the market as an innovative prenatal vitamin that provides the unique needs of mother and child for each trimester as well as the post-natal nutrients needed for breast-feeding infants.
Women can order Trio online or over the phone (866-874-6730) where they can report their due date or simply state that they are in the pre/post pregnancy stage. The Trio Prenatal Vitamin Assistant will then set up a shipping plan for each trimester of prenatal vitamins to arrive to the door of the mother.
Every shipment includes a month's supply of individual day packets of Trio Prenatal. The packet contains all the specific needs of the mother and child for that month's development making prenatal and postnatal care easy for mothers. There's extra Folic Acid, Iodine and Vitamin B6 in the first trimester to relieve morning sickness and promote baby's brain and thyroid development. The second trimester of Trio Prenatal Vitamin contains extra iron, magnesium and B6 for cramp and morning sickness relief and promote baby's forming blood supply. The third trimester has extra calcium, DHA, iron and magnesium for cramp relief and to promote baby's brain and bone development.
"Trio Prenatal was developed with the latest scientific research in mind," Trio Prenatal CEO Travis Alvord said. "Unlike other prenatal vitamins that only offer limited nutrients based off of dated research, Trio Prenatal contains the right nutrients mothers and children need at the right time."
Alvord says he was amazed to find out that there weren't more prenatal vitamins like this on the market. He hopes that Trio Prenatal's uniqueness and comprehensive vitamin formula will make it the best prenatal vitamin on the market.
He says that Trio Prenatal is made with the highest quality natural ingredients that consumers and pregnant mothers can trust.
About Trio Prenatal, LLC:
Trio Prenatal, LLC is a supplement company founded in 2010. They specialize in top of the line supplements that contain the best all-natural ingredients and in providing the highest recommended nutrients for mother and baby based off the latest scientific research. More information can be found at: http://www.trioprenatal.com.