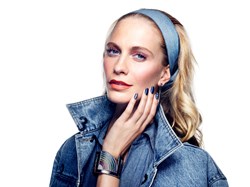 Denim is a wardrobe staple and our denim effect polish is the perfect indigo shade that suits any skin tone.
Johannesburg (PRWEB) October 29, 2013
Nails inc products are all about creating effects and texture.... and the finishes are getting hotter and hotter! The latest fashion forward formula from Nails inc is Denim – a beautiful matt indigo shade that applies glossy and dries down to a classic denim effect finish. This trendy product is available at Edgars and Red Square stores as well as from the online beauty specialist store [http://www.redsquare.co.za.
Thea Green, founder of Nails inc, on the creation of Bling It On Denim & Studs: "Fashion is at the heart of Nails inc. We have a unique ability to switch on the latest trends and shades and we're always first to market with the latest special effects and polish innovation. Denim is a wardrobe staple and our denim effect polish is the perfect indigo shade that suits any skin tone."
According to Vogue Guide by fashion specialist Kelly Connor, the denim trend is going to reach wider audiences and will serve more purposes than ever during 2013. Polished denim (appropriate for the office), colour blocked denim, boldly striped trousers and boyfriend shorts are just some of the looks that will be created with this versatile denim.
Inspired by this classic trend, the Nails inc Denim and Studs collection is a fresh take on textured nails and the simplest way to update your denim collection. Worn on its own, the polish has a chic, minimalistic feel, but for those wanting to make an impact, the collection is packed with mini star embellishments that will personalise the look.
Denim has to be the staple element of every fashionista's wardrobe. Just as the perfect pair of jeans can transform your wardrobe, this is the perfect polish shade to create an iconic nail look that will flatter any skin tone, will never date and will always be on trend!
Apply two coats and watch the denim effect appear after 30 seconds. The perfect indigo denim shade from Nails inc.
Bling it On Denim & Studs Collection is available truly exclusively at select Edgars and Red Square Stores.
Price: R250
For more information visit http://www.nailsinc.com, or find them on Twitter or Facebook
ENDS.
About Nails inc
Founded in 1999 by young entrepreneur Thea Green MBE (for services to the Beauty Industry), Nails inc is the UK's leading fashion forward nail brand with a bestselling, highly sought after product range. Nails inc provides the ultimate in affordable luxury and is famous for its innovative, catwalk inspired, professional products.
The idea for Nails inc came about in 1999 when Thea was just 24 years old and working as a Fashion Editor in London. Thea spotted a gap in the market for professional high quality manicures and a more fashion forward range of products for women with little time to spare and she set about launching Nails inc. She began developing the nails inc product range and opening the first Nails inc salon on South Molton Street near London's Bond Street. The store opened to queues down the street, eager to try the now famous 15 minute manicure and the professional, fashion inspired product range.
Thea's fashion background played a huge role in the creation of the product range, ensuring that customers could always find the perfect shade to match the latest trends. Staying true to its London heritage, Thea named all of the products after famous London destinations such as Notting Hill Gate, Portobello, St James, Piccadilly Circus and The Thames.
Nails inc has established itself as the UK's most successful and popular nail bar chain, seeing on average 10,000 customers per week. Nails inc has two luxurious stand alone stores in London and 59 nail bars in department stores. The extensive product range is now available internationally.
Nails inc products are formulated with the latest professional technologies and are created for women who demand uncompromising quality and instant results. Fashion is at the heart of Nails inc and as a result has become one of the leading colour brands in the UK, with a unique ability to switch on the latest shades. Nails inc are always first to market with the hottest trends and product innovation, including special effects such as magnetic, 3D glitter, crackle and nail jewellery. These revolutionary products are perfect for giving customers the opportunity to experiment with the latest fashions and effects.
Nails inc regularly work with fashion designers and are always spotted behind the scenes at Fashion Week, collaborating with designers such as Matthew Williamson, Issa, Alice & Olivia, Osman and Richard Nicoll. Thea says, "Having regular exposure to fashion designers and how they work, combined with the ability to manufacture new colours in an instant, has given us quite a unique edge within the nail industry. Nail polishes have become the ideal non-committal, affordable fashion accessory," explains Thea.
"We regularly launch new nail colours from chic taupe to pastel yellow. It keeps our fashion conscious customers very happy, as they know they can expect the unexpected when it comes to new nail shades."
Nails inc works behind the scenes at fashion week and Thea creates a fashion week blog as the shows take place. Trend shades are matched there and then so the latest shades are available just a few weeks later.
Thea Green has won a number of business awards including Entrepreneur of the Year 2010 at the Woman of the Future Awards and the Retail and Consumer Award at the 2011 First Women Awards. In 2011, Thea was awarded an MBE for her services to the beauty industry, which was presented to Thea by the Queen at Buckingham Palace.
Nails inc is now available in 300 Sephora stores in the US and Canada and also in fashion boutique Kitson, Fred Segal and Saks. Nails inc is also available in Sephora stores in France, Luxembourg, Monaco, Italy, Spain, Denmark, Greece, Turkey, Romania, Serbia, Bulgaria, Poland, Czech Republic and The Netherlands. Furthermore, Nails inc is available in UK, Republic of Ireland, France, Spain, Romania, Poland, Italy, Greece, Netherlands, Turkey, Denmark, Sweden, Czech Republic, Serbia, Portugal, Bulgaria, Singapore, Malaysia, Mexico, Canada, USA, UAE, Kuwait, Qatar, Australia and will be available in the Middle East and South East Asia later this year.
ENDS.