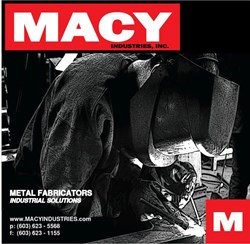 As a second generation family run business, above all others we offer a level of professionalism, organization, and quality that sets us apart from our competitors.
Hooksett, NH (PRWEB) December 06, 2013
As a valued current client or prospective new client, Macy would like to share three unique ways to keep the work environment safe. These suggestions will not only help to protect the everyday worker from harm, but will also help to instill a certain level of trust among employees.
Clean with Ease - Every Business Needs to Be Clean
Every business has cleaning supplies which are often thrown into a closet or the corner of a room. Macy Industries, Inc. has a solution to help organize all equipment into one convenient station. This station can hold brooms, dust pans, rakes, shovels, mops, mop buckets, cleaning solution, and paper towels. Custom cleaning stations can even be fabricated with wheels to move easily around your facility, bringing supplies where they are need most.
Guarding - Safety by Design, Meeting OSHA Standards
Safety is a big concern at Macy Industries, Inc. and Macy believes every industry needs to protect their employees. A great way to do this is through the use of guarding and railing. OSHA sets very strict standards for safety. To ensure the customer will meet OSHA requirements, Macy offers many different forms of guarding and railing. Guarding is a great way to shield employees from dangerous equipment and work areas, as well as guard valuable machinery from unauthorized use. Macy can help its customer quarantine any area regardless of shape or size, protecting your employees and equipment. Macy Industries, Inc. makes guarding on wheels for ease of mobility, as well as guarding with an access door and windows for machine viewing. Macy can also fabricate work platforms, which can be fabricated with a staircase to allow safe and easy access to large machinery. This type of platform can also have an adjustable railing attached that can be put down for machine access and up when the machine is in use.
Railings - Help Prevent Accidents
Railing can be used to protect your employees, machinery, and property from accidents involving forklifts, sweepers, or other moving facility equipment. This can be very beneficial for dangerous, expensive, or crucial equipment. Railing is perfect for showing employees what distance is too close to approach a machine. Not only can railing be used inside facilities, but it can be used on rooftops as well. This is ideal for rooftop units that are accessed on a regular basis. The railing can clearly define unsafe areas for the employees.
Macy Industries, Inc. prides itself at offering a unique customized product and level of customer service. A highly skilled and trained Macy representative is available to answer metal fabrication safety questions today.