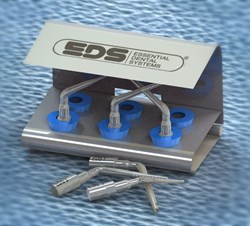 S. Hackensack, NJ (PRWEB) January 28, 2014
Essential Dental Systems, Inc. (EDS) is proud announce a new product to its line of quality dental devices; EDS Ultrasonic Tips. EDS Tips are advancing two key factors in endodontic success; access cavity refinement and canal orifice location. Developed by leading endodontists, EDS Ultrasonic Tips make ultrasonic procedures more cost effective, predicable, and quicker.
Superior strength, cutting efficiency, and unbeatable clinical results make EDS Tips the Dentists number one choice in Endodontic access refinement, post removal, and passive ultrasonic irrigation (PUI). EDS Tips scientifically designed MicroHatch cutting pattern provides: the highest fracture resistance available, superior cutting efficiency, less clogging of dentinal debris, a remarkable field of view, and great working precision.
To fit your existing ultrasonic unit, the EDS Tip Introductory Kit is available in both E and M Thread. The kit comes with a tip taxi, wrench, and 1 of each of the 6 EDS Tips. EDS Tips are available immediately through dental dealers worldwide. For more information on this product, visit http://www.edsdental.com or call 1-800-223-5394.