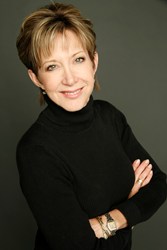 "It's important to me that the public sees how simple and non-evasive a heart scan is."
Houston, TX (PRWEB) August 02, 2013
In the wake of the untimely death of nationally syndicated talk show host Kidd Kraddick, YourDailySuccessTip.com CEO Dayna Steele decided that sending a nice tweet or writing about Kraddick's life wasn't enough. Instead, Steele chose to show the public just how easy it can be to prevent heart disease by getting a heart scan while a local news crew filmed the event.
"Kidd and I ran in the same circles and we were the same age," says Steele, who is a member of the Texas Radio Hall of Fame. "It's important to me that the public sees how simple and non-evasive a heart scan is."
Steele and husband, author and aviation consultant Dr. Charles Justiz, went to Methodist Hospital in Houston, TX and both underwent heart scans in front of television cameras. The tests, which Steele and Justiz agree were quick and painless, might have saved Kidd Kraddick's life according to Dr. William Zoghbi, director of Houston Methodist's Cardiovascular Imaging Institute.
"It looks like there was blockage in the arteries, the heart was enlarged," Zoghbi said. "With the heart scan, you would pick that up. No question about it."
The scan measures calcification, an effect of coronary disease. According to Zoghbi the test is targeted for those who have a family history of heart disease but no obvious risk factors such has high blood pressure or smoking. It is often covered by health care insurance if the doctor deems it necessary.
Dayna Steele is a leading authority on business and success trends including social media, networking and customer service as well as a rock radio Hall of Famer, the creator of YourDailySuccessTip.com, and author of Rock to the Top: What I Learned About Success from the World's Greatest Rock Stars and 101 Ways to Rock Your World: Everyday Activities for Success Every Day. Follow her on Twitter @daynasteele.