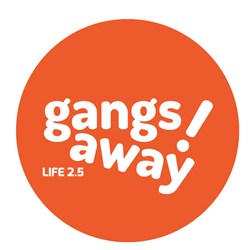 One day you'll retire. Then what? Move. Stay. Start a business. Go back to School. Volunteer. We call it Life 2.5.
Wilton, CT (PRWEB) August 05, 2013
GangsAway, LLC, a privately-owned internet company, announced today that it has launched a new retirement website and planning platform aimed at helping 80 million Boomers reimagine their next act, what GangsAway calls "Life 2.5". The new site, http://www.Gangsaway.com, offers practical information on locations, second careers, business start-ups, volunteering and education and also provides a collaborative social platform for planning the retirement years with friends.
According to the U.S. Census, one-third of Baby Boomers are single and looking for alternative ways of retiring. New trends in co-habiting, multi-family dwelling and even planning new homes and businesses with friends is emerging. People will find that the website's search functionality, discussion boards for asking and answering questions on locations, starting businesses, second careers and volunteering, takes the guess work out of planning the next life stage.
"Boomer conversations have moved from what colleges the kids are going to," said Moira McGarvey, Founder, GangsAway! "to what people are going to do next with their lives and where are they going to live."
There is a growing number of Boomers who are thinking about moving somewhere or starting a business together. But, there has been no comprehensive website to help retiring Boomers do all these things. "Until Gangsaway.com," said McGarvey.
The website is designed to make it easier for people approaching the retirement years to begin the journey with all the right information. Boomers are not looking to take a back seat during this time of their lives. Today, people 55+ are the fastest growing demographic for starting new businesses in the United States. Key features on the GangsAway! website include the ability for people to quickly search and filter locations by activities, education, housing, healthcare, volunteering, and business climate.
The "Location Genie" feature helps people who are just starting get ideas and inspiration by providing suggestions on locations based on personal preferences. The site allows users to search and compare every zip code in the U.S. and there are even a handful of international locations. Advanced Search helps identify locations for things like great places for singles, university towns, or best towns for cost of living crossed with higher education.
Key to GangsAway.com is the ability for families and friends to plan, save, rank and organize all the information they collect so they can collaboratively identify best places, careers, schools, etc., together. "According to the AARP," said Ms. McGarvey, "today, there are more than four million women in the U.S. over 50 living with two or more other women over 50. This is a significant trend."
GangsAway! provides information on local happenings, festivals, farmers' markets, marathons, continuing education and even restaurants as part of the mix. The social nature of the site gives people a venue to ask questions of others who have personal experience with a location, business, a move, or going back to school.
GangsAway! will continue to build out the scope and functionality to provide deeply personalized scenarios, reports, and planning schemes that incorporate where to live, what to do and how to finance it.
About GangsAway, LLC™
GangsAway was started in April 2012 by Moira McGarvey, who has had a long career in digital media, and was trying to find good retirement information herself. The company is committed to empowering this generation to embrace the next part of their lives with joy and optimism and to remain socially connected and productive. For more information, visit http://www.Gangsaway.com. GangsAway! Short Video: http://vimeo.com/69418912
MEDIA CONTACT:
Moira McGarvey
Founder
GangsAway, LLC
Tel: +1 203-644-3854
moira(at)gangsaway(dot)com