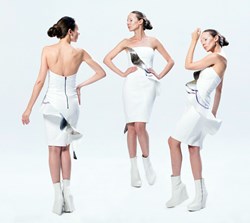 I'm confident about the products on the site now and I am bursting at the seams with new ideas, so stay tuned!
Los Angeles, California (PRWEB) September 25, 2013
Helga Solrun, a popular fashion design company based in Los Angeles, today announced that it has partnered with Island Technologies to launch its redesigned shopping website, helgasolrun.com. The new ecommerce site has been built from the ground up by Island Technologies to provide a visually appealing and easy-to-use shopping experience, running on Island's robust and flexible Island Cart framework.
The Helga Solrun ecommerce site is the culmination of years of effort by company founder Helga Sigurbjörnsdóttir. Born on a farm in Eyjafjarðarsveit, Iceland, Ms. Sigurbjörnsdóttir studied fashion at Iðnskólinn in Reykjavík, where she specialized in men's tailoring. She moved to Los Angeles in 1996, where she worked for a number of small designers before partnering on a fashion line with Anna Rut Steinsson at Skraddarinn/Bespoke, supporting both a retail location in Iceland and wholesale purchasing in the United States. Ms. Sigurbjörnsdóttir then spent the next five years working for internationally renowned fashion concerns before going solo with the Helga SolrunTM line. For the past seven years, Ms. Sigurbjörnsdóttir has continued to produce custom designs for a small, but loyal, clientele. With the launch of helgasolrun.com, she is poised to bring her cutting-edge designs to a broader online market.
Because every order placed with Helga Solrun is made in Los Angeles, using mostly organic fabrics and recycled materials, and turned around in just three to four business days, the company's proprietor and primary designer, Helga Sólrún Sigurbjörnsdóttir, needed an efficient, competent and aesthetically savvy partner to design, implement and host the new ecommerce site. Island Technologies' attention to detail, sharp aesthetic design sensibilities, and strong commitment to one-to-one, personal support and service made them a great fit for Ms. Sigurbjörnsdóttir, while the company's extensive web hosting experience and mature, extendable Island Cart ecommerce framework ensured technical success on launch day and beyond.
"I'm very excited to finally make it to this point – this feels like the longest pregnancy I've ever experienced!" exclaimed Ms. Sigurbjörnsdóttir. "I'm confident about the products on the site now and I am bursting at the seams with new ideas, so stay tuned!"
"With Island Cart providing the basis of Helga Solrun's ecommerce site, Ms. Sigurbjörnsdóttir can focus on designing and delivering fresh and exciting clothing, without having to worry about day-to-day technical concerns," said Patrick Coffin, CEO for Island Technologies. "We look forward to supporting the growth of Helga Solrun's online presence in the months and years to come."