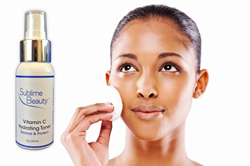 The Sublime Beauty® Vitamin C Toner, available now, restores balance of skin PH.
St. Petersburg, FL (PRWEB) March 04, 2014
Toners are often misunderstood. The real purpose of a toner is to balance the PH of skin so it is healthier and can handle skincare products better.
In addition to balancing PH, the Sublime Beauty® Vitamin C toner adds a powerful anti-oxidant for defense.
The toner also includes aloe, chamomille, ginseng, and citrus extract as well as the essential sodium hyaluronate for retaining moisture.
"Skin can be unbalanced from soaps, minerals in the tap water, diet and environmental elements," says Kathy Heshelow, founder of Sublime Beauty®. "The more alkaline your skin in, the drier it is."
Sublime Beauty® offers a brochure about the power of Vitamin C and its related products.
The toner is available at the new Sublime Beauty® shopping site as well as on Amazon. The new shopping site offers free standard shipping, a special VIP Club to accumulate points for discounts, and product-rich pages.
Shoppers can round up their purchases and donate to "Stand Up to Cancer" at the new Sublime Beauty shopping site, too.