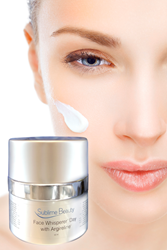 'The Face Whisperer line was developed to help improve skin quality, boost collagen and relax wrinkles,' says Kathy Heshelow, founder of Sublime Beauty.
St. Petersburg, FL (PRWEB) March 14, 2014
Relaxing wrinkles, improving the look and health of skin and moisturing properly are all concerns of many.
Sublime Beauty® developed the Face Whisperer® line to address these very concerns and Consumer Newswatch TV has highlighted this is a 1 minute spot.
"We know that men and women in their 40s, 50s and 60s or older don't want to be 20 again, but they would love to have the best skin possible," says Kathy Heshelow, founder of Sublime Beauty®. "Matrixyl and Argireline are but two scientific solutions, found in the products."
The line of products include:
Face Whisperer® Day Cream with patented Argireline (the natural botox) to relax wrinkles, Trylagen to boost collagen production, and botanicals to moisturize.
Face Whisperer® Night Cream with patented Matrixyl to boost collagen while you sleep and recently highlighted in a scientific journal as reported in the TV spot.
Face Whisperer® Advanced Eye Gel to reduce dark circles, bags and wrinkles with three patented ingredients (Eyeliss, Haloxyl and Matrixyl).
Face Whisperer® Neck & Decollete Cream to treat the delicate skin of this area that shows age quickly. Argireline and many organic ingredients are included.
All products are available on both Amazon or the new SublimeBeautyShop.com. Product reports, videos and free shipping are available at SublimeBeautyShop before purchase, and VIP Points can be earned for future discounts.
Sublime Beauty offers secret deals and discounts each month, and often highlights Face Whisperer. Sign up here to receive the secret deals newsletter.