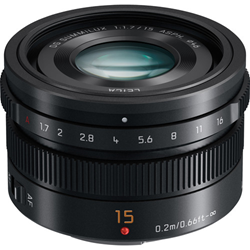 Panasonic announces the LUMIX G Leica DG 15mm F1.7 wide-angle lens
NYC, NY (PRWEB) March 25, 2014
Panasonic announced a prime lens for Micro Four Thirds format cameras—the LUMIX G Leica DG Summilux 15mm f/1.7 ASPH lens is available in silver and black, and brings with it the best of Panasonic/Leica collaborative efforts. Read more on the Panasonic LUMIX G Leica DG Summilux 15mm f/1.7 ASPH. lens: http://www.bhphotovideo.com/c/product/1041519-REG/panasonic_h_x015k_lumix_g_leica_dg.html
The Panasonic LUMIX G Leica DG Summilux 15mm f/1.7 ASPH lens provides a 35mm format equivalent of 30mm focal length lens, which is a nice option for wide-angle work without getting into heavily exaggerated perspectives.
The fast f/1.7 maximum aperture benefits working in low-light conditions and also avails greater control over the focus position for shallow depth of field and selective focus techniques. Intuitive control over the aperture selection is also possible through the use of the manual aperture ring. In regard to focus, an internal focusing system with a stepping AF motor promotes fast, quiet, and smooth performance.
B&H Photo, a qualified Panasonic Authorized reseller with the most up to date Panasonic product information, product pricing and individual promotional offers. Read and learn more on the new Panasonic LUMIX G Leica 15mm f/1.7 lens at B&H Explora
Connect with B&H Photo on the web. (Facebook, Twitter, Tumblr, Google+, Pinterest, Flickr, YouTube, B&H Explora)
About B&H Photo Video
As the world's largest source of photography, video and audio equipment, B&H Photo-Video is known worldwide for their attentive, knowledgeable sales force, and excellent customer service, including fast, reliable shipping. Visitors to the website can access a variety of enlightening articles and educational videos. B&H has been satisfying customers worldwide for 40 years. http://www.bhphotovideo.com/.
When in New York, take a tour of the B&H Photography SuperStore located at 420 9th Ave. The expo continues all year round at B&H, in the camera kiosks. Featuring the newest cameras, the kiosks are manned by manufacturer representatives who are there to guide and demonstrate the latest photographic technology. With hundreds of products on display, the B&H Photo SuperStore is the place to test-drive and compare all the latest photography gear.