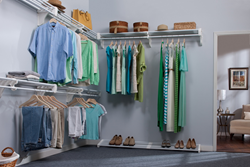 "Wow! The best closet organizer - fast and easy to install. Priced right and made in the USA. Great deal. I give it an Excellent rating." -Robert W., Leander, TX
Delray Beach, FL (PRWEB) March 11, 2014
Handy Magazine's Independent DIY testers have overwhelmingly recommended EZ SHELF closet organizers, produced by Tube Technology LLC. Many of the independent testers have called EZ SHELF "The Best Closet Shelf ever".
97% of the independent testers recommended EZ SHELF. Out of 5-stars, over 70% rated the products at 5-stars, and another 21% rated them 4-stars.
"These incredibly positive, unbiased reviews are great for our business," said David Jablow, president of Tube Technology. "Most online shoppers read product reviews before they make a purchase, so it's great to have so many reviews from these experienced, independent testers."
EZ SHELF DIY closet organizer products are patented, super-strong, expandable, and do not require any cutting or drilling.
Keith R. of Terre Haute, IN stated, "EZ SHELF has definitely knocked one out of the park with this product! I was skeptical at first because of past experiences with so-called 'easy install' shelving. This truly is easy to install. From the self tapping anchors to the slide out expandable shelf that eliminates cutting, this product is great. Additionally, this shelving is much more durable that some others on the market. I have used others before and been disappointed because they begin to sag from putting too much weight on them. I loaded up this shelf with heavy boxes of books and magazines and no sagging. Can't say enough about this product. I will definitely be buying more in the future!"
Strength also separates EZ SHELF from other shelves on the market. Each tube is made from high strength steel, (with a durable resin coating) allowing the shelves to hold up to 200 lbs. (without securing to a stud). Additionally all EZ SHELF products include a lifetime guarantee and USA made Toggler SnapSkru® self-drilling drywall anchors for additional strength and ease of installation.
"Wow! The best closet organizer - fast and easy to install. Priced right and made in the USA. Great deal. I give it an Excellent rating." Robert W., Leander, TX.
Walk in closets, reach in closets, laundry rooms, home offices, basements and garages can all utilize EZ SHELF expandable products to help maximize storage space.
EZ SHELF is competitively priced when compared with wire closet shelving, and is currently available at homedepot.com, amazon.com as well as Tube Technology's website, http://www.TheBestClosetOrganizer.com. Jablow states that the EZ SHELF expandable shelves will be in major retail stores later this year.
About Tube Technology LLC
Tube Technology is located in Delray Beach, FL. Its products are protected by USA Patents & Canadian Patents
For more information please visit http://www.TheBestClosetOrganizer.com
or call 888-399-2880.
Contact
David Jablow, President
Tube Technology LLC
561-303-3591
http://www.TheBestClosetOrganizer.com