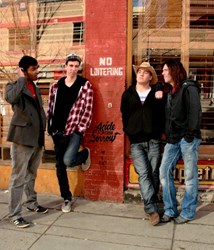 Even as young teenagers, these guys were some of the most amazing musicians I've ever seen." Payne smiles thinking back.
Kelowna, BC (PRWEB) October 30, 2013
Inspirational speaker, author, and musician Troy Payne has been delivering his message of overcoming adversity to youth and adults across North America. Abandoned, neglected, and abused as a child, Payne's personal story of triumph over tragedy has been inspiring people to overcome life's struggles and begin their own journeys of healing. His story is captured in the international bestselling book The Road to Resiliency.
Music helped Payne get through those tough times. As a child he would get lost in the album artwork, liner notes, and songs of his favorite artists. The magic of bands like Kiss, Led Zeppelin, and John Cougar Mellencamp empowered and inspired him to become a self taught singer, guitar player, and songwriter. He believed that music was the best form of storytelling that we have and he wanted to find a way to incorporate live music into his presentations of finding resilience. He also wanted to find a way for talented youth musicians to be able to shine their light.
Payne recruited 3 youth musicians, all whom were 15 years old and using music themselves to move through the struggles of adolescence. This newly formed group would be known as Aside from Sorrow; their collaborative vision was to create rock concerts with a message. The idea was to have Troy present his story of overcoming adversity while he and the band would perform a dozen songs throughout the program that would compliment and capture the energy of the storytelling. This became the Rock 'n Resiliency Project.
Initially the band covered songs of other artists like Linkin Park, Three Days Grace, and Blink 182 during the Rock'n Resiliency shows. Of course the teens were pumped to be on stage. But it wasn't long before they tired of playing cover tunes. "Even as young teenagers, these guys were some of the most amazing musicians I've ever seen." Payne smiles thinking back. So they headed into the studio to record their debut album Out of the Darkness…Into the Light. The album is a consistent roots rock metal hybrid. Its primal sound depicts the struggles and adversities we are all faced with but also inspires hope, peace, and healing. The album became the soundtrack for the Rock'n Resiliency Projects and has been taken in by thousands of teens.
Now 4 years and 2 albums later, the boys have grown up in the band. The band still rocks out with that resiliency message for high school students, but the music they recorded for their second release - an EP called Love's Many Faces - is all grown up. It follows the pain and beauty at the beginning and at the end of relationships.
The single on the album, The Journey, is an epic song, clocking in at 8 minutes and 56 seconds. "We were jamming in Mark's basement" (that's drummer Mark Lawlor), "and this song flowed so effortlessly we didn't want to stop." Before any lyrics were written Payne asked the band what the song felt like and Bass Player Sajan Jacob piped up "It's like a journey. The song is like a journey and our life is like a journey."
And the journey for this band has been quite a ride. Lead guitarist, Jordan Ewasiuk shakes his head in amazement, "We've been featured in movies, a TV series and our single, The Journey, is now being produced into an international video to launch an online TV station. It blows my mind."
You can feel the brotherly love between these band members, as though they really are on this journey together. "This album is about discovering who we are and where we're going," says songwriter and producer Troy Payne, "it's really the story of everyone's life."
Check out Aside From Sorrow on iTunes and watch the band at http://www.WellnessRealization.net.