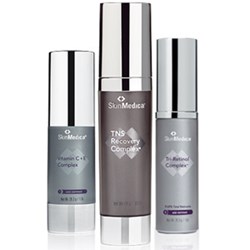 SkinMedica TNS Recovery Complex is actually quite economical to use, as just a single pump is needed, morning and night.
Anaheim, CA (PRWEB) December 05, 2013
DrSkinSpa.com provides top shelf, anti aging solutions for skin via their e-commerce web site. This skin care product site delivers youthful solutions formulated from naturally derived substances that have been scientifically tested and proven to work for a wide variety of skin care needs. They carry a huge supply of consumers' skin care favorites.
The TNS complex speeds up skin cellular repair and aid in renewal of skin issues due to aging and sun exposure. The specialized growth factor contained in SkinMedica TNS Recovery Complex has an odor different from most other natural anti wrinkle cream products due to the growth factors. This can be easily overcome by applying a moisturizer after the application of recovery complex.
TNS Recovery Complex is used to alleviate the appearance of fine lines and wrinkles in aging skin. This serum will also help even out uneven skin pigmentation, such as age spots primarily caused by sun exposure. Photodamage and photoaging issues are reduced to a great extent. With skinmedica tns recovery complex, the elasticity and texture of the skin is also improved. Skin will become smoother and firmer with continued use of this product.
Contained within SkinMedica TNS Recovery Complex are a variety of natural ingredients that work together to revive aging and sun-damaged skin.
This natural anti wrinkle cream soaks into skin immediately, leaving no greasy residue. There are 110 natural growth factors contained within the skinmedica tns recovery complex aimed at smoothing out lines and wrinkles, dissipating age spots and pigmentation issues, and making the facial complexion glow.
Desiree Johnson, the esthetician at DrSkinSpa.com, says, "Recovery Complex is actually quite economical to use, as just a single pump is needed, morning and night."
DrSkinSpa.com has loyal customers from all over the world. This global web store is highly praised for providing the most desirable anti aging skin care needs that people are actively seeking. Their products for skin have garnered scientifically proven results. DrSkinSpa.com's skin care offerings come with a two-week, money-back promise in addition to 120% price protection program, free shipping, and complimentary consultations with an on-site Esthetician. DrSkinSpa.com is owned by Crescent Health Center and is based in Anaheim, California.