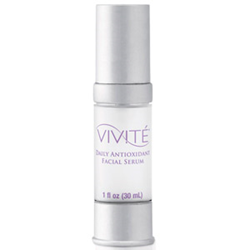 The list of natural, effective ingredients contained in Vivite Daily Antioxidant Facial Serum go on and on.
Anaheim, CA (PRWEB) March 20, 2014
DrSkinSpa.com provides consumers with top-of-the-line, natural anti aging skin care products via their e-commerce web site. This e-commerce web site brings consumers anti-aging solutions formulated from naturally derived ingredients. These formulations have been clinically tested and proven to perform on exceptionally well for a diversity of skin care needs. DrSkinSpa.com carries a tremendous stock of various skin care favorites. The latest addition to their family of product offerings is Vivite Daily Antioxidant Facial Serum.
Vivite Daily Antioxidant Facial Serum exfoliates, moisturizes and protects skin for a more youthful appearance. The Vivite serum contains a 15% glycolic compound for effective face exfoliating results. The gentle sloughing off of dead skin cells with this face serum reveals new skin beneath, and the Vivite Daily Antioxidant Facial Serum is gentle enough to be used on a daily basis.
Antioxidants are another huge attraction of this face exfoliating serum. The antioxidants used in the Vivite serum include green tea and pomegranate to help protect against free radical damage in the skin. The licorice root extract helps tone the skin, evening out pigmentation issues. The chamomile in Vivite Daily Antioxidant Facial Serum soothes and calms skin that has been damaged or may become irritated.
Vivite Daily Antioxidant Facial Serum also contains their trademarked GLX Technology in all of the Vivite serum products. This face serum has GLX Technology, which is a glycolic compound that is combined with powerful antioxidants. These Vivite serum ingredients rejuvenate and protect aging skin with smooth, more youthful results. The GLX Technology, glycolic compound contains olive leaf extract to fight against environmental stressors. Vivite Daily Antioxidant Facial Serum also has Vitamin E, a free radical scavenger and cell protectant. The Vivite serum also includes Vitamin C, a strong antioxidant that also helps regenerate Vitamin E. The Grape Seed Extract in this face serum halts the damage that can be wrought by the sun's UV rays. Aloe heals the skin by soothing it. Lycopene is an antioxidant that works, also, to protect against free radicals. Wild Mango Butter is included in Vivite serum because of its rich moisturizing qualities. Caffeine reduces any puffiness. Licorice extract brightens up dark areas of the skin.
Mehgan, the Esthetician at DrSkinSpa.com, says, "The list of natural, effective ingredients contained in Vivite Daily Antioxidant Facial Serum go on and on. Everything good for your skin, particularly antioxidants, can be found in the Vivite serum."
DrSkinSpa.com attracts a dedicated customer base from all around the world. This global e-retail store is highly regarded in the skin care retail market for providing the most anticipated and highly desired anti aging skin care formulations. Their products have earned only the most positive scientifically proven results. DrSkinSpa.com's skin care offerings come with a 14-day, money-back guarantee in addition to a 120% price protection assurance, no-cost shipping, and complimentary consultations with their own, on-site Esthetician. DrSkinSpa.com is owned by Crescent Health Center and is based in Anaheim, California.