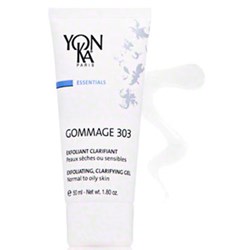 With Yonka gommage, pores are deeply cleansed and they shrink to make skin tone look and feel fantastic.
Anaheim, CA (PRWEB) December 26, 2013
DrSkinSpa.com provides top tier, natural anti aging skin care products via their e-commerce web site. This skin product e-commerce site brings consumers anti-aging solutions formulated from naturally derived ingredients. These formulations have been scientifically tested and proven to perform on a high scale for a diversity of skin care needs. DrSkinSpa.com carries a huge stock of various skin care favorites. The latest addition totheir family of product offerings is Yonka Gommage 303.
Yonka Gommage 303 is comprised of botanicals, 7.5% vegetal extracts, and water to hydrate, exfoliate, cleanse and diminish fine lines for a natural anti aging skin care experience. The Yonka gommage product gets rid of dead skin cells and impurities that can clog skin and dull the complexion.
The botanicals put to use in Yonka Gommage 303 include carob and brown algae derivatives to scrub and work as an effective skin exfoliate. The balance skin oils, Yonka gommage contains orange, lemon and lime essential oils for their astringent effects. This keeps skin toned and acne and blemishes at bay. The lemon extract in Yonka Gommage 303 is high in Vitamin C for clarifying and toning skin. For deep skin hydration, Yonka gommage contains plant glycerin, derived from plant oils.
Yonka Gommage 303 leaves skin supple and moisturized. Even the contours of the eyes are smoothed for a true anti aging effect. Tired, dull skin is left radiant and glowing with Yonka gommage, an extra plus for mature skin complexions that need an extra lift.
The Yonka Gommage 303 is a gentle scrub that peels the dead layers of skin off without irritation. The Yonka gommage contains no waxes. It is spread onto the skin in a thin layer and allowed to set for a couple of minutes. The Yonka Gommage 303 is then swept or rolled off the face and along with it comes grime and excess sebaceous oils, leaving skin healthy and glowing for a more youthful appearance.
Desiree Torres, the Esthetician at DrSkinSpa.com, says, "With Yonka gommage, pores are deeply cleansed and they shrink to make skin tone look and feel fantastic. Yonka Gommage 303 is excellent for oily skin and can even work as an overnight moisturizing masque."
DrSkinSpa.com has attracted a loyal customer base from all over the world. This global e-retail store is highly regarded in the skin care retail industry for providing the most anticipated and desirable anti aging skin care formulations that consumers seek. Their advertised products have garnered positive scientifically proven results. DrSkinSpa.com's skin care offerings come with a 14-day, money-returned guarantee in addition to a 120% price protection assurance, no-cost shipping, and free consultations with their own, on-site Esthetician. DrSkinSpa.com is owned by Crescent Health Center and is based in Anaheim, California.