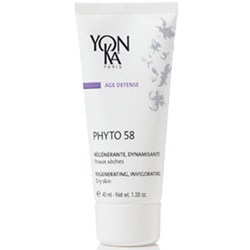 YonkaPhyto 58 PG has Vitamins F and E in it also, to help revitalize tired skin complexions. Think of Yonkaphyto as adding oxygen to the skin and waking it up, detoxifying it.
Anaheim, CA (PRWEB) December 01, 2013
DrSkinSpa.com provides top tier, natural anti-aging skin care products via their e-commerce web site. This skin product e-commerce site brings consumers anti-aging solutions formulated from naturally derived ingredients. These formulations have been scientifically tested and proven to perform on a high scale for a diversity of skin care needs. DrSkinSpa.com carries a huge stock of various skin care favorites. The latest addition to their family of product offerings is YonkaPhyto 58 PG.
YonkaPhyto 58 PG is a revitalizing, rejuvenating moisturizing skin care product. The yonkaphyto face cream for oily skin or normal skin has ingredients that not only brings moisture back to skin, but also relieves fatigue-ridden complexions and evens out skin tone to brighten and enliven the face.
The yonkaphyto moisturizing skin care product will bring back a healthy, rosy glow of youth to the skin. This is a moisturizer that can be safely used on oily complexions as well as normal skin without encouraging blemishes or excess oils to surface. The YonkaPhyto 58 PG cream is quickly absorbed into the skin. It is infused with Rosemary extracts. Yonkaphyto uses rosemary extract because of rosemary's abilities to improve the quality of skin. Rosemary extract contains naturally rich antioxidants that scavenge free radicals and slow down skin aging. This extract contained in YonkaPhyto 58 PG also has microelements such as iron, calcium, vitamins, camphor and others that give skin benefits that improve texture and quality.
Rosemary extract is very useful in face cream for oily skin products because this extract contains astringent properties that reduce excess oils and revitalize skin. The Rosemary in Yonkaphyto also acts as a disinfectant to treat acne conditions that often occur in those with oily complexions. It also reduces redness in skin.
YonkaPhyto 58 PG is an antidote for sun-damaged skin that has become unevenly pigmented. The yonkaphyto cream makes skin stronger and more balanced. The lavender oil in this cream heals irritated skin. The Cypress in YonkaPhyto 58 PG works to tighten enlarged pores, a common occurrence in oily skin types.
Desiree Johnson, the Esthetician at DrSkinSpa.com, says, "YonkaPhyto 58 PG has Vitamins F and E in it also, to help revitalize tired skin complexions. Think of Yonkaphyto as adding oxygen to the skin and waking it up, detoxifying it, and eventually giving a refreshing glow of youth back to the face.Yonkaphyto renews the most tired of complexions!"
YonkaPhyto 58 PG should be applied to skin in the evening, after cleansing and toning is completed.
DrSkinSpa.com attracts a loyal customer base from all over the world. This global e-retail store is highly regarded in the skin care retail market for providing the most anticipated and wanted anti-aging skin care formulations that people seek. Their products have earned only positive scientifically proven results. DrSkinSpa.com's skin care offerings come with a 14-day, money-returned guarantee in addition to a 120% price protection assurance, free shipping, and complimentary consultations with their own, on-site Esthetician. DrSkinSpa.com is owned by Crescent Health Center and is based in Anaheim, California.