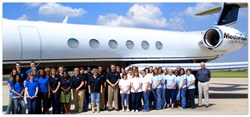 ...medical billing has evolved from a paper based claims processing to a highly digitized environment!
Chicago, IL (PRWEB) October 29, 2013
Over the last quarter of a century, medical billing has changed formats, fees and the future of healthcare. Medorizon has assisted hundreds of providers and facilities throughout the US with these transitions. Medorizon started with roots dating back to Detroit, MI in the name of Independent Medical Billers serving primary care physicians processing Medicare and BCBS claims. Medorizon has expanded as a regional player servicing clients in the upper Midwest, Deep South and Southwest regions of the United States. Medorizon's main focus is on niche markets where no one healthcare service company dominates this sector. According to Tim Tobin, President of Medorizon, "Our target client is the 2 to 10 physician specialty groups such as Orthopedic, OB/Gyn, and Pain Management. Furthermore, we focus on the free standing Ambulatory Surgical Centers which provide low cost outpatient procedure with very favorable outcomes. With this approach, Medorizon has been able on focus on offering custome products to this specific group." At the onset Medorizon was totally hard copy oriented with a manual process which was extremely labor intensive. With the evolution of technology we have been able to transmit the majority of claims and clinical services in virtual paperless environments.
MISSION AND VISION
Medorizon's MISSION is to provide medical practice management solutions that improve efficiency, reduce costs and increase cash flow for healthcare providers throughout the United States.
Our VISION is to be a major provider of healthcare solutions leveraging state of the art technology following current regulations with unique personal dedication to exceeding customer service expectations.
The Medorizon vision and product offering is to make available all elements for claims submission and document management available to every client via the Web. According to Tobin "We find that software and technology changes or become obsolete every 5 years thus necessitating huge capital outlays. The Medorizon approach is to offer both practice management and EMR at a very low entry fee based on a subscription model where you pay as you go. With most medical practice being squeezed with lower reimbursements and increasing costs, prudent organizations need to understand and adjust costs to maintain reasonable profit margins". The Medorizon philosophy is to integrate our technology with the medical practice or facility and provide efficient billing and clinical data management with the goal of efficient and speedy medical claims reimbursement.
CORE VALUES
Respect…. Treat others, as you would want to be treated
Courteous and accountability
Integrity… Keep your word
Honesty
Professionalism
Bring your "A" game
Service… Exceed expectations
Teamwork with clients.
Fun… Create an enjoyable workplace
Engage in challenges, celebrate accomplishments
With the Affordable Care Act changing the future of US healthcare, Medorizon models its core values to help facilitate the mandated upcoming changes of medical documentation to support the billing process. Keith Tobin Vice President of Sales, states "Service is the main core value that I believe makes our company stand alone in this environment. We strive to have our staff stay true to our values. This is demonstared by our predictable outcomes. Service is our company culture from patient calls to custom client reports and analysis. We are here to help our partners build a strong and supported business". Medorizon has grown to a 60-employee organization that manages the billing and collection process for over 400 providers throughout the United States. As October, 2014 approaches for ICD-10 implementation, Medorizon will be offering webinars which will help all aspects of the medical practice prepare for ICD-10 from the front office staff to advanced clinicians.