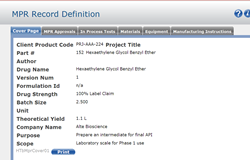 Cary, NC (PRWEB) December 10, 2013
InstantGMP™ is pleased to announce the update to version 2.03 of their InstantGMP MES manufacturing execution system with electronic batch records. New enhancements to this cloud based software for manufacturing products under Good Manufacturing Practices (GMP) make staying in compliance even easier.
The application was originally designed for manufacturing just pharmaceutical products and was updated to make it available for manufacturing dietary supplements, herbals, botanticals, cosmetics and foods. In this latest release, the user interface for working with specifications now allows a more streamlined and intuitive process. Another adaptation to facilitate dietary supplement manufacturing is the new ability to select and deselect vendor qualification status.
Some of the inherent functions of the role based security system were enhanced where each user has a pre-set role in each project. Now they can change roles and assign projects without leaving the application. The compliance with 21 CFR Part 11 electronic signatures has also been streamlined to allow automated process to detect and deal with failed access attempts.
InstantGMP™ is constant refining their software and improving the automated, pre-programed process that are used in manufacturing products that must be in compliance with GMP and in line with FDA requirements. Existing users will be automatically upgraded to this newest release with no increase in their subscription rates. The newest enhancements that are being introduced continue the tradition of always finding ways to make manufacturing products regulated under GMPs easy.
About InstantGMP™
InstantGMP™ develops web-based manufacturing software that meets GMP and 21 CFR Part 11 requirements. The software systems were built using a quality by design approach where the standard operating procedures were written simultaneously with the program. The software streamlines every step of the manufacturing process to produce products with electronic batch records. InstantGMP™ MES is a manufacturing execution system with electronic batch records and InstantGMP-Lite™ EBR is an electronic batch record software system.