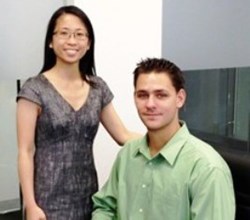 New York, NY 10022 (PRWEB) September 26, 2013
The SDDCO Group, longstanding providers of outsourced professional support to the financial services industry, is proud to announce the addition of two talented, accounting professionals to its team. Phyllis Chin, Chartered Accountant, and Michael Krebs, Accountant, recently joined S.D. Daniels and Company, P.C., the founding, accounting and financial reporting entity of the 60 year-old firm.
Phyllis Chin, Chartered Accountant, brings 13 years of industry experience to her supervising senior role. Former positions include: Vice President of Group Capital and Funding, NY, managing staff in New York and India; Vice President of Macquarie Capital Finance, NY, where she served as Controller of 26 entities domiciled in North and South America and received the 2010 Macquarie Award for significant firm contributions; Manager at Central Finance, NY, responsible for the financial accounting and reporting of a U.S. broker dealer and multiple corporate advisory arrangements; and auditor at Australia's National Audit Office, Canberra, executing engagements for Australian Federal Government organizations. Phyllis is a member of the Institute of Chartered Accountants Australia (CPA equivalent). She earned a distinguished, dual degree, the Bachelor of Commerce and Arts, from the University of Queensland, Australia in 2000.
Michael Krebs, Master's Degree graduate, joins the firm, building on his experience as a FINRA registered Series 7 & 63, stock broker with JP Morgan Chase & Co., NY, and as the Assistant to the Controller at Wagner College, NY, performing all requisite monthly accounting and payroll functions for the institution. Michael is a recipient of the Wagner College, Graduate Division, Outstanding Academic Achievement Award, presented to three accomplished students annually. He earned his Masters Degree in Accounting in 2013.
Formed 1952 in NYC, The SDDCO Group delivers outsourced support to financial services firms throughout the states and around the world. Firm clients include broker-dealers, registered investment advisers, privately held funds, futures commission merchants, and the U.S. arms of foreign banks. SDDCO services include SEC, CFTC, NFA and FINRA registrations, accounting and bookkeeping services, FinOp support, tax services, regulatory compliance consulting, AML independent testing, and broker-dealer operations services. Licensed SDDCO professionals also assume CCO and CFO roles on an intensified outsourced basis.
SDDCO Locations
NEW YORK (HQ) ~ 485 Madison Avenue, Floor 15, New York, NY 10022 (T 212-751-4422)
BOSTON ~ 50 Congress Street, Suite 6, Boston, MA 02109 (T 617-523-0376)
PHILADELPHIA ~ 500 Swedesford Road, Suite 104, Wayne, PA 19087 (T 484-431-3873)