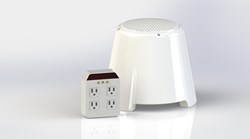 Boca Raton, FL (PRWEB) October 17, 2013
Home invasions affect more than 3,500,000 people each year. Due to the overwhelming response and demand, The PTD Security Systems team is now taking pre-orders for their revolutionary home invasion deterrent system, The Preventor F645. With advanced technology originally used by the military, The Preventor F645 will not only detect burglaries but stop burglars dead in their tracks, before a home is ever broken into. A burglar is not prepared for this type of technology. The Preventor F645 will protect families unlike any security system.
Turn speakers up and click on the link below to experience how the secret weapon, Bobo's dog bark audio, will stop anybody attempting to break into a home or commercial building.
To Hear Bobo and his brother in action, click here
Would anyone try to open a window or door after hearing that terrifying bark?
Watch The "Meet Bobo Video." click here
This former military secret technology can now go to work defending homes and families against burglaries, break-ins and even violent home invasions. Traditional alarm systems do nothing to stop break-ins from happening. The Preventor F645 does. The revolutionary difference: The Preventor F645 system detects any sudden disturbance to any given access point on the outside of a home and triggers the fearsome barks, scaring any burglar away before they enter a home.
In addition, the PTD system is extremely affordable in comparison to traditional alarm systems. Traditional systems can cost customers up to $3,000 in installation and monthly monitoring fees in the first year alone, but those preordering The Preventor F645 during the special presale offer will enjoy no installation cost, no shipping costs, and no monthly monitoring fees for life.
"We wanted to give buyers considering a more effective security system a real advantage in purchasing early on. Not only may consumers take pride in being one of the first to own the world's most technologically advanced security system, but they will feel good knowing they took the opportunity to save some money. Once the presale is over, the PTD system will sell for $599.99. Consumers pre ordering today, however, will receive the system at the discounted price of only $499.99 with free shipping and handling (lower 48 US states only), a total of over $100 + in savings. We have only a limited number of systems available for this presale and urge interested consumers to take advantage of this wonderful opportunity."
Click here to see the F645 in action or visit http://www.ptdsecurity.com.