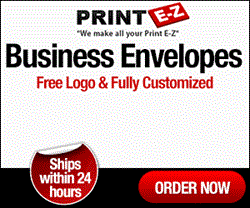 PrintE-Z.com has been high on adding more customers to the company. Most of the strategies have also revolved around this aim. The strategy has also worked well and new customers are pouring in.
Monroe, NY (PRWEB) October 08, 2013
Business envelopes retailer, PrintEZ.com has announced a 10 percent discount on all new orders. This offer has been launched to ensure that there is some activity on each one of the categories that the company offers. While there are new categories that are being launched and additional products that are being added to the online shop, there is also a keen interest in ensuring that each of the categories stays dynamic and attractive to the new customer.
Since the company is in an expanding stage, there is no limit to which the company will not go in order to acquire a higher number of customers. Customer acquisition seems to be the most important aspect which the company is focusing on since PrintEZ.com is keen on adding new clients to the fold. In a statement, CEO, Morris Rose mentioned, "PrintEZ.com has been high on adding more customers to the company. Most of the strategies have also revolved around this aim. The strategy has also worked well and new customers are pouring in. However, the main thing to note is that the company has also made enough efforts to ensure that these additional customers are serviced well."
Print EZ has strengthened its back end in order to ensure timely delivery of orders. Check orders are shipped off to the location within 24 hours of it being placed. There are also specific delivery times stated on every product to set realistic expectations for the customers.
Delivery times are not the only thing that the company has focused on in order to ensure complete satisfaction of existing and new clients. Sourcing of higher volumes of material has been tightened. Not only has this resulted in a better quality of product but also reduced costs as the company reduces overall cost.
The combination of great front end advertising, addition of new products and offers along with a tightened back end of supply chain and deliveries has resulted in a solid standing of the company in the industry. Competitors are beginning to notice the force with which PrintEZ.com is forging ahead in the online printing space.
Some of the regular offerings on the site include free shipping for all new clients especially for business envelopes, checks, business forms and tax forms. To attract the mid-sized business entrepreneurs, the company also provides logo designing services. The logos are designed by designing professionals in order to ensure esthetics, balance and relevance. The free logo is printed on any product category that the client chooses for free.
The market has been abuzz with news from this online printing solutions retailer for some time now. Inside sources say that the company is not likely to stop at this. One is likely to hear more news with regards to additional products in existing categories and new categories as well. The undying and relentless efforts of the employees at PrintEZ.com are surely likely to result in great numbers on the balance sheet.
Industry watchers and competition has noticed the manner in which the company is expanding. There are some other new entrants that are trying to replicate the product strategy of this retailer. However, there is no doubt that PrintEZ.com is far ahead in the race now and that catching up with this company is not likely to be an easy task. Irrespective of whether it is business envelopes, mailing envelopes, tax forms, promotional gifts or product labels, PrintEZ.com offers the best variety and range available online. Get more details of the business envelopes category and others at Print EZ
Get more information about how Print EZ offers and new launches on Business Envelopes call the company at 1-888-246-0635.
To read more about Envelopes, click here http://www.printez.com/envelopes.html.
To read more about Business Envelopes click here http://www.printez.com/business-envelopes.html.
And, get regular updates of new offers and deals here.
Print EZ
4 N Main St.
Monroe, NY 10950
(845) 782-5832