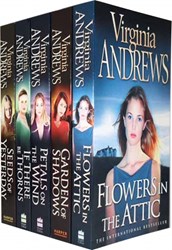 Leicester, Leicestershire (PRWEB UK) 9 October 2013
The Virginia Andrews Dollanganger Collection tells the gripping story of a family's betrayal, heartbreak, love and revenge in a box set of five popular titles: Garden of Shadows, Petals on the Wind, If There be Thorns, Seeds of Yesterday and Flowers in the Attic.
The first novel, Flowers in the Attic, introduces the tragic tale of the Dollanganger children who are imprisoned in a dark attic by their cruel mother and grandmother after the death of their father. Petals on the Wind follows the lives of the children after their escape as they struggle to cope with the terrible pain and horror of their life in captivity. In the final two novels, If There be Thorns and Seeds of Yesterday, the Dollanganger children continue to encounter haunting scenes from their past and turn to revenge in an attempt to find the peace they so desperately seek.
Garden of Shadows is the prequel to the compelling saga that began with Flowers in the Attic, and has been adapted for a new generation of fans. It reveals dark secrets in the Dollangangers' past which would continue to haunt and shame the family for generations to come. The shocking history of Malcolm Foxworth and Olivia Winfield – the grandparents of the Dollanganger children, Chris, Cathy, Cory and Carrie – sets the stage for the rest of the captivating series.
The best-selling Virginia Andrews Dollanganger collection is suitable for readers aged 10 and older and is now available to purchase on the Snazal Books Wholesale website.
About Snazal
Since 2006, Snazal has grown to become a worldwide book distributor, supplying independent bookstores and other small business venues with specially selected, handpicked titles. Snazal offers more than 500,000 books on a variety of topics, ranging from children's interests and history, to educational books and trade publications. To date, this UK-based supplier has worked with prestigious distributors and publishers to serve more than 1 million customers.