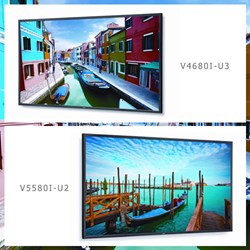 Our V Series exists to put to rest the myth that multi-touch, large-format screens are out of grasp for most consumers.
Austin, Texas (PRWEB) October 16, 2013
TouchSystems meets consumer demand for large-format, multi-touch screens with the addition of 46-inch and 55-inch multi-touch displays. Both displays are part of TouchSystems' entry-level and economically-friendly line of commercial-grade displays, making the screens an ideal choice for customers new to digital signage or who are working on a strict budget.
Carol Nordin, president of TouchSystems, says, "Multi-touch, large-format screens often seem out of the grasp of many of our customers. Our V Series exists to put that myth to rest. We offer a 32, 42, 46, and 55-inch displays in the line, and all have been integrated with infra red, a multi-touch technology."
The V 46 and V 55 offer strong performance; the touch screens are LED-backlit, an energy-conscious and cost-conscious feature, and come with internal temperature sensors and fans to keep the screens cool and to extend their lifespan. While the displays may be economically-friendly, the price tag shouldn't fool anyone: the multi-touch screens are full HD LCD and are equipped with Open Pluggable Specification (OPS)-compliant slots for easy installation and management of digital signage content. The displays also are offered with Dispersive Signal Technology (DST), a single-touch technology suited to wayfinding applications.
TouchSystems was established in 1996. The company is a pioneer in the touch technology industry. TouchSystems works with its customers to create innovative touch solutions, such as desktop touch monitors, interactive digital signage, all-in-one systems, kiosks, and industrial controls and peripherals. TouchSystems is based in Hutto, Texas and is a certified woman- and minority-owned small business. For more information, call (512) 846-2424 or visit http://www.touchsystems.com. TouchSystems also can be followed on Twitter and on Facebook.