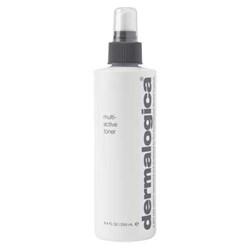 Rachel Goodyear, the esthetician at DrSkinSpa.com, said, "Dermalogica Multi-Active Toner is great for an instant pick-me-up and a boost of hydration."
Anaheim, California (PRWEB) October 03, 2013
DrSkinSpa.com provides its clients with a wide selection of doctor-recommended skin care products. Their fully functional e-retailing web site is convenient and user-friendly. The company's main focus is on anti-aging and natural skin care lines that have been scientifically proven to achieve optimal clinically proven results. In addition to its already wide inventory of skin care products, DrSkinSpa.com is now proud to announce the addition of Dermalogica Multi-Active Toner to their product line.
Dermalogica Multi-Active Toner is a multi-faceted spray that conditions skin and preps it for better moisture absorption, especially prior to application of Dermalogica moisturizing products. It contains moisture-binding humectants in addition to botanical ingredients to soothe, protect, anti-age, and calm the skin's surfaces.
The Dermalogica toner aids in evening out the skin's porosity so it looks more evenly textured and smooth. It also enhances the absorption properties of moisturizing creams or lotions that are applied prior to using this toner and restores the skin's innate pH balance.
The Dermalogica toner has active ingredients that include Lavender, Aloe Vera, Arnica, Balm Mint, Cucumber, and moisture-fastening humectants. The Aloe Vera in Dermalogica toner is a natural heal-wounding substance, especially good for skin that is wrinkled from the UVA/UVB effects of the sun. It has a light, fragrant aroma and moisturizes the skin, giving off a cool, refreshing feeling. The Balm Mint has many of the same properties as Aloe, soothing sensitive skin and providing antibacterial protection against acne. The Arnica in Dermalogica toner has anti-inflammatory benefits, helping soothe and calm skin. Cucumber is a good source of Vitamin K, which can shrink capillaries that cause skin look dark, such as with hyperpigmentation issues, and is very helpfulwith lightening as with dark circles undereyescream.
Desiree Torress, the esthetician at DrSkinSpa.com, said, "Dermalogica Multi-Active Toner is great for an instant pick-me-up and a boost of hydration. It is for everyday use, but comes in especially handy when traveling on an airplane flight, where skin can get quickly dehydrated!"
DrSkinSpa.com, owned by Crescent Health Center, is based in Anaheim, California. The company is doctor-owned and -operated and possesses an A+ rating with the Better Business Bureau. DrSkinSpa.com furnishes its customers with no-cost shipping, free samples, a 14-day, money-back guarantee plus a unique promise of 120-day price protection, in addition to free consultations with an esthetician.