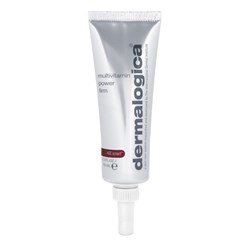 Rachel Goodyear, an esthetician from DrSkinSpa.com, said, "Dermalogica Multivitamin Power Firm also contains seaweed extract,
Anaheim, California (PRWEB) October 04, 2013
DrSkinSpa.com provides its customers with a huge selection of doctor-recommended skin care products. Their fully functional e-commerce website is convenient and very user-friendly. The company's main focus is on anti-aging and natural skin care lines that have been scientifically tested to achieve optimal clinically proven results. In addition to its already wide inventory of skin care products, DrSkinSpa.com is now proud to announce the addition of Dermalogica Multivitamin Power Firm to their product line.
Dermalogica Multivitamin Power Firm is an anti-aging complex that firms the skin around the delicate eye area, softening lines and wrinkles with natural ingredients. This product speeds up the natural repair process of the skin with targeted ingredients that include vitamins, silicones and botanicals.
The vitamins included in Dermalogica power firm complex are Vitamin A in the form of retinol. This eye cream with retinol is a powerful anti-aging aid that will smooth and resurface the skin's texture by exfoliation, erasing lines and lessening wrinkles. Vitamin A is able to penetrate the layers of skin more deeply than other ingredients may be able to, enabling the complexion to glow and renew itself from within.
The Vitamin C (ascorbic acid) in Dermalogica power firm is an antioxidant that aids in the formation of collagen and the healing of wounds. Vitamin C protects the skin's cells from photo damage aging signs, improves the skin's barrier protection, lessens inflammation that can lead to acne, and brightens the skin while lessening hyperpigmentation. One other vitamin included in Dermalogica power firm is Vitamin E. This is also a strong antioxidant that protects against environmental toxins, such as polluted air, that destroys skin cells. Free radicals are removed with Vitamin E and it helps heal the skin and speeds up new cell generation, thereby smoothing skin and ironing wrinkles out.
The silicones in Dermalogica power firm make this product easy to apply, giving it a smooth, creamy texture. The silicone also shields skin, providing a protective barrier against further environmental assault. It repels water, aiding dry skin by keeping moisture in.
Rachel Goodyear, an esthetician from DrSkinSpa.com, said, "Dermalogica Multivitamin Power Firm also contains seaweed extract, which is full of phytonutrients that will enable the skin to glow as it smooths out wrinkles and firms up skin, especially in the eye area."
DrSkinSpa.com, owned by Crescent Health Center, is based in Anaheim, California. The company is doctor-owned and -operated and possesses an A+ rating with the Better Business Bureau. DrSkinSpa.com furnishes its customers with no-cost shipping, free samples, a 14-day, money-back guarantee plus a unique promise of 120-day price protection, in addition to free consultations with an esthetician.