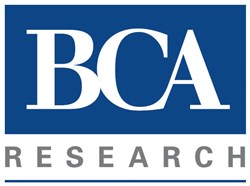 BAN redefines investment research by harnessing the power of data analysis, visualization and research content to deliver actionable insights for investment professionals. - Brijesh Malkan, Product Director, BCA Research
Montreal, QC (PRWEB) October 15, 2013
BCA Research is pleased to announce the launch of a new research application, BCA Analytics. Delivering the power to spot trends, uncover correlations and identify actionable investment opportunities, BAN gives users the ability to build upon BCA's research and communicate ideas through powerful data visualizations.
Advanced features include:
Adjust date-ranges – find correlations and create your own stories
Search – instantly find charts through natural language queries
Updates – always have access to the latest data for models and indicators
Add related data sets – including time-series and models unique to BCA
Clip charts – export for use in internal or client presentations
Annotate and share – build convincing stories through visual notes
What can users expect from BAN?
Access
With over 150,000 raw time-series, proprietary analytics and indicators, BAN gives users access to thousands of BCA charts – all with the latest data, and each with a brief description for research context. BCA Analytics is designed to integrate seamlessly into a client's investment decision-making workflow; click on a BCA chart in a research report to access the application – and once in, download any underlying research report with the touch of a button.*
Discover
Using proprietary semantic technology, BCA Analytics allows you to zero in on any one of thousands of BCA charts, predictive analytics and indicators from our research publications.
Customize
Add new data sets, adjust date-ranges, and add annotations and comments to charts to create your own personalized stories on market trends, investment ideas and trading strategies. Favorite charts for future reference or clip custom views of charts to a virtual folder for future use.
Collaborate
Export charts for presentations and share charts within the application to communicate with a team. BAN gives users the control to build upon BCA's research together with the ability to effectively communicate the results through storied visualizations.
BCA trusts that financial professionals will find this new and innovative application invaluable to their investment decision-making process.
Click here to learn more about BCA Analytics.
*Requires Service Subscription
About BCA Research:
BCA Research is a world leading provider of independent investment research. Since 1949, the firm has provided its clients with leading-edge analysis and forecasts of the major financial markets, with clear and focused investment strategy recommendations and backed by countless proprietary models and leading indicators. BCA provides its services to financial professionals in more than 90 countries through a wide range of products, services, and meetings.
Learn more about BCA Research.