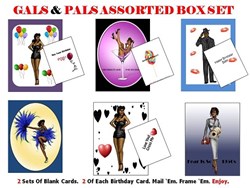 I know how frustrating it can be to suddenly remember at midnight that you've forgotten to get so-and-so a card.
BROOKLYN, NY (PRWEB) October 01, 2013
The gift and stationery store Noir A-Go Go takes the fright out of the month of October with a spooky good deal. October 1 through the 31st, the online store is offering their super user-friendly Black pinup girl-themed greeting card box set for only $20---a $5 savings.
"I know how frustrating it can be to suddenly remember at midnight that you've forgotten to get so-and-so a card," says K.C. Washington, Noir A-Go Go's owner and the designer of their various products. "Having the pinup-themed box set handy allows one to breathe easy knowing you're prepared for almost any occasion, and at $20 for 12 cards, it's not only convenient, it's also a terrifyingly good deal."
This terrifyingly good deal includes 3 styles of birthday card, with one geared toward men, 2 blank general note cards, and a Valentine's Day card. The sayings on the cards range from the sassy "Birthhdays Are For Suckers" to the culturally specific "Fear Is So 1950s" and are a generous sampling of the Noir A-Go Go catalog.
The catalog, which includes everything from compact mirrors and magnets to tote bags and Post Its, has been steadily growing since the company's inception in October of 2010.
"I like things made as easy as possible and I like variety and I'm a good American so of course I love a deal," laughs Washington, "so periodically, I like to bundle two or three things from the catalog together and offer my customers a fun, affordable, package."
This Halloween will definitely include more treat than trick.
About Owner and Designer K.C. Washington
K.C. launched Noir A-Go Go in January 2011, with the idea that something was missing within the American pinup girl genre, namely women of color. So she decided to put what she calls a sepia spin on the beloved genre and Noir A-Go Go was born. Convinced that the world is more than familiar with the image of African Americans fighting for their rights during the Civil Rights era, she wants to show another image from that time---one of glamour and wit. A Mellon Fellow and a novelist with a background in journalism and literary and historical fiction, K.C. has raised the curtain on a world of beautiful, empowered, stylish women (and a few men) and placed them on everything from magnets and tee shirts to tote bags and greeting cards, with more to come as she expands.