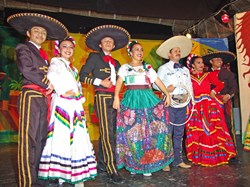 The South America and Caribbean teacher recruiting fair lets U.S. teachers find great employment opportunities in a region that is both economically expanding and is culturally attractive.
Washington, D.C. (PRWEB) October 25, 2013
Educators Overseas' (EO) partnership with the AASSA has opened a world of new opportunities for EO teachers who want to work in international schools in South America and the Caribbean. One of the expressions of this partnership is the teacher recruiting fair targeting this region of the world held annually in Atlanta by the AASSA. This year's fair takes place December 5-8. Teachers who have attended in the past say that this fantastic event has allowed them to find great employment opportunities in a region that is both economically expanding and is culturally attractive. Who can argue: besides a generous salary, such opportunities include housing, flights, and health insurance. Teachers can find out more info here: about the South American Recruiting Fair.
"One of our biggest assets is the network of teachers we have developed over the years. We want to expose them as much as possible to as many working opportunities abroad as possible and a partnership with AASSA is an excellent way to help achieve that purpose", pointed out Christy Grimste, executive director with EO. The partnership does appear to be ideally synergistic, as EO and the AASSA both represent efficient interfaces between supply and demand.
Opportunities in Central and South America are amplified by the continuous development of the educational market, translated into the need for more and more teachers to teach U.S. curricula in English in American internationals schools. Research shows that, with the expansion of markets in the region and the presence of more and more English-speaking expats, this trend is expected to continue, creating solid growth in international education. "We expect several hundred schools from all countries in the region", said Grimste.
For the third year in a row EO's partnership with the AASSA has enabled EO teachers to benefit monetarily as well: "the partnership with the AASSA allows us to provide a 10 % discount over the registration fee for all teachers registered with EO. It pays to be an EOer", smiled Grimste. While attending the fair does not guarantee immediate placement in schools in the region, the process is certainly quick and the exposure is virtually unlimited: prospects can expect to be interviewed on the spot and receive feedback in 2-3 days on whether they have been accepted or not. For teachers who might want to mix Argentinean tango with their passion for teaching, this fair could be the perfect opportunity.
Since 2007 Educators Overseas has been helping native English speakers find excellent teaching jobs in South America, Asia, and around the world. For more information about Educators Overseas, about teaching in China or South America, or about teaching abroad in general, visit their website at http://www.educatorsoverseas.com.