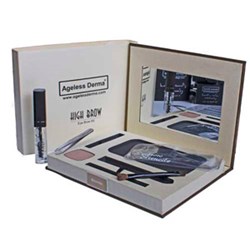 Anaheim, California (PRWEB) October 07, 2013
DrSkinSpa.com is a top-selling e-retail site. This successful web store sells only quality anti-aging mineral cosmetic makeup and skin and hair care solutions. DrSkinSpa.com is able to offer healthy, mature skin care solutions that are formulated through nature alone. The products sold through this web store have been clinically tested to be safe and effective for a majority of mature skin and hair care needs. They carry a varied stock composed of the most-wanted natural anti aging creams, mineral cosmetics, and skin care solutions. The latest addition to the DrSkinSpa.com family of products is Ageless Derma High Brow Kit, a mineral cosmetic set.
The Ageless Derma High Brow kit is full of the implements and mineral cosmetics necessary to form flawless eyebrows that open up the eyes and bring light and beauty in. This mineral cosmetic set will also work as an anti-aging fixative for the skin around the eyebrows, smoothing out fine lines and wrinkles. It will also work on protecting the skin from the sun's wrinkling UV rays. Mineral cosmetics are known for their sun protectant qualities as they reflect the rays that ultimately damage and age the skin.
This mineral cosmetic brow kit comes with all that is needed to shape and perfect the eyebrows for a younger, more eye-opening appearance. Ageless Derma High Brow Kit comes with three eyebrow shaping stencils so the user can choose the most appropriate template necessary for the natural eyebrow shape. Tiny tweezers are included so small, undesirable hairs can be easily removed. A mirror is included with the case for ease of use.
The Ageless Derma High Brow kit's most essential elements are the eyebrow mineral cosmetics and the eyebrow brush that are included. This is a mineral cosmetic powder that adds anti-aging ingredients and youthful color to the brows. The mineral cosmetics brush is a double-ended gel brush that expertly applies the brow color to blend in naturally with the eyebrows.
Desiree Torress, the Esthetician at Ageless Derma says, "Ageless Derma High Brow Kit makes it so easy to reshape your eyebrows for a more youthful, eye-opening look that defines and highlights the face. The kit includes mineral cosmetics that provide anti aging protection from the sun's UV rays, an added plus!"
Developed by a committed group of physicians, chemists, researchers and estheticians with over 30 years of experience, Ageless Derma combines cutting-edge research with all-natural ingredients to provide the best in anti-aging skin care.
Ageless Derma was inspired by nature. Its products contain many botanical ingredients, enhanced by the knowledge and innovation of its expert researchers. At the heart of this anti-aging range are high concentration stem cells, peptides and antioxidants that have been drawn from nature to provide flawless skin without resorting to invasive or painful delivery techniques.
The Ageless Derma line contains three core products:
Ageless Derma Stem Cell and Peptide Anti-Wrinkle Cream
Ageless Derma Retinol and Vitamin K Eye Cream
Ageless Derma has also developed an all-natural line of anti-aging mineral cosmetics. Free from all oils and parabens, this soft mineral cosmetics line provides natural protection to skin, keeping it looking and feeling great, day or night