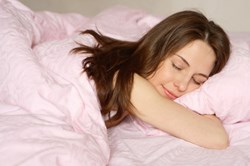 Possible health consequences of getting too little or poor sleep can involve the cardiovascular, endocrine, immune and nervous systems.
Thousand Oaks, CA (PRWEB) October 10, 2013
A Sleep Disorders Center of Alabama laboratory research study on Relief-Mart Inc.'s Tempflow™ memory foam mattresses showed that they can help those with sleep disorders get a more restful, comfortable and supportive sleep.
Thirty six sleep-disorder patients participated in the Tempflow mattress study. After sleeping on the mattress, the subjects answered several questions with a 1-10 rating, 10 being highest. The majority pleased with the Tempflow mattress, with 73 percent reporting a reduced need to toss and turn, 87 percent giving the memory foam mattress an 8 or higher for comfort, and 100 percent said they felt well-supported on the mattress.
"In designing our line of Tempflow mattresses, we've worked hard to make a bed that helps people get good, deep, natural sleep," says Relief Mart Inc. Vice President for Product Development Rick Swartzburg, D.C. "We're gratified that the SDCA testing bears out that our effort has paid off. We're especially proud of the 100 percent rating for support, since that can be a big problem with too many mattresses on the market."
A March 5, 2012, U.S. News and World Report article, "13 Reasons Not to Skimp on Sleep," cites a figure by the National Sleep Foundation: "More than 35 percent of adults routinely clock less than seven hours per night.
"Possible health consequences of getting too little or poor sleep can involve the cardiovascular, endocrine, immune and nervous systems," the article continues. "In addition to letting life get in the way of good sleep, between 50 and 70 million Americans suffer from a chronic sleep disorder—such as insomnia or sleep apnea—that affects daily functioning and impinges on health."
A company goal of Relief-Mart, manufacturer of Tempflow and Selectabed bedding products, as well as other health aids, is helping its customers get a good night's sleep, including those with sleep disorders. To achieve this goal, the company hired Swartzburg – a chiropractor, natural health author, and industry-noted expert on the mattress-sleep relationship – to be its vice president for product development.
"Lack of sleep is a leading cause of health problems in this country," said Swartzburg "Too many Americans don't get to sleep enough and many because they have sleep disorders or can't get comfortable. "I was proud to join the Relief-Mart team and take practical steps toward alleviating this national crisis. Everyone at the company is dedicated to producing a quality, American made mattress that gives people real relief – it's what we do."
Dr. Swartzburg added that many Tempflow customers have sent in testimonials about how the mattress has helped them to sleep better.
"I purchased this mattress because I have several sleep disorders, including narcolepsy," R.W. of Round Mountain, Texas, wrote. "I have tried many other things in order to improve my sleep. This has included a litany of different types of mattresses to eliminate any sleep difficulties possibly related to the mattress itself. … I can testify to the comfort and quality of the TempFlow matress that I received. I now get more restorative sleep at night, and have had some reduction in the excessive daytime sleepiness category."
It is due to his poor sleep and the necessity of better quality sleep for his girlfriend at the time Amanda who suffers from Fibromyalgia, that Editor In Chief, Lawrence Davis of L.A. Splash Magazine spent 35 hours going over Tempflow and Tempurpedic Reviews and research before deciding on a Tempflow mattresss. "I have had the Tempflow™ bed now for over four years, and am still in love with it," cites Mr. Davis.
Because of the Tempflow's innovative design, Space Daily, a leading online Space Industry publication, tested and compared a Tempflow mattress to a Tempur-Pedic Mattress and found the innovative Tempflow design more comfortable and cooler.
This is all good news for those who are looking for a good night's rest and certainly lends real credibility to the Tempflow brand and their belief that Tempflow is first in the world in both innovation and proven quality sleep.
---
About Tempflow™ and Selectabed
Tempflow is a product of Relief-Mart, Inc., a Thousand Oaks, California-based mattress and health-care manufacturing firm founded in 2001 to provide real solutions for comfort, support and overall body health. Company products can be found at the http://www.tempflow.com website and at select dealer locations. For more information, call 800-667-1969.
*Tempflow is a trademark of Relief-Mart Inc. Tempur-Pedic is a registered trademark of Dan-Foam A/S Corporation. The information in this release about the Tempflow, Selectabed and Tempur-Pedic mattress brands is strictly for comparison purposes.