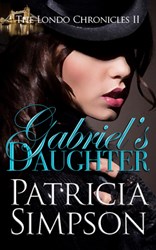 Pre-digital age writers made five cents an hour. Now we work for free? It doesn't make sense.
San Francisco, CA (PRWEB) October 21, 2013
Award-winning author Patricia Simpson has drawn a line in the sand with the release of her newest book, Gabriel's Daughter. The book is being released exclusively in print. Why? Digital piracy.
Author of seventeen books with HarperCollins, TOR, and Silhouette, Simpson says, "The moment a digital book is released, twenty websites pop up to offer the book as a free download. The average author earns five cents an hour. Now we are working for free? It doesn't make sense."
Like her mysterious cane-wielding hero in Gabriel's Daughter, Simpson is fighting digital piracy and championing the return of printed books and bookstores. "There is a place for digital books, and I was one of the first writers to jump on the ebook bandwagon," Simpson says from her home in the California wine country. "But I find I'm just not reading my electronic books as much. There is something about holding a book in your hands and being able to smell the paper and ink. It's impossible to touch a book without going into a bookstore. But it's a real challenge these days to even find a bookstore. I'm rethinking the entire digital publication scenario."
Literary piracy is similar to the illegal downloads in the music industry. But unlike musicians who can afford to give away music as long as they make money on concerts and promotions, authors don't have such options. Readers don't think twice when offered a free book. Times are hard. Money is tight. But illegal downloads are hurting authors at a staggeringly global rate. "For every digital sale," Simpson claims, "there are 20,000 illegal downloads."
Simpson's new novel, Gabriel's Daughter, is about a young woman who sees a better way to live and wants to change her repressive society. Simpson hopes to do the same.
Patricia Simpson lives in the Bay Area of California and is the author of eighteen books. She has won numerous awards, including Best Paranormal of the Year, RT's Career Achievement Award and was a finalist for the RITA for her debut novel, Whisper of Midnight. Her recent book, Spellbound, was nominated Best Indie Paranormal of the Year. She is a member of Romance Writers of America.