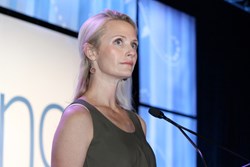 I want my daughter to have options and I don't think the 'princess' option is a healthy one.
Los Angeles, CA (PRWEB) October 25, 2013
Three outspoken women discussed the gender equity issues facing women -- and men -- in business this week at the Network of Executive Women Leadership Summit 2013 in Los Angeles. More than 1,000 executives from the retail and consumer goods industry attended the women's leadership event.
Anne-Marie Slaughter, the former State Department official and president and CEO of the New America Foundation, said in her opening keynote Tuesday that "feminism has stalled. [Women and corporate America] are all looking at what women should or shouldn't do, which puts the onus on women to advance."
Current concepts of caregiving and competition must be rethought, she said. "Flexibility makes companies better and more productive. The barrier is the stigma that attaches to those policies. We cannot change this unless people who take the flexibility are equally valued and considered for leadership. Nobody wants to talk about fighting the flexibility stigma."
Commenting on Yahoo! CEO Marissa Mayer's decision to limit flex work for her employees, Slaughter said the decision "made sense" for the business, but added that "the optics were terrible. You can't build a nursery next to your office and then ban everyone else from having flextime." She predicted that Yahoo! would eventually offer the work-from-home option again.
Filmmaker and activist Jennifer Siebel Newsom said American culture encourages young girls to embrace "princess" stereotypes that discourage leadership traits and breed gender bias at her closing keynote address Wednesday morning. "I want my daughter to have options and I don't think the 'princess' option is a healthy one."
"Leadership has traditionally been reserved for men," the writer and director of the documentary "Miss Representation" said. "Girls hear about their looks, rather than their capacity to lead, while their brothers and male peers are told early on that they are our natural born leaders."
Things are not easier for young boys, Newsom said. They are forced to conform to notions of masculinity that value qualities like aggression and domination over empathy and caring. Research shows "boys at birth are more emotional than girls, but we socialize that out of them," she said. "We need to explore what has become normalized in our country."
Former Los Angeles city controller Wendy Greuel offered a third take on women's leadership Tuesday afternoon when she discussed her recent race for Los Angeles and the "double-bind" faced by female leaders, especially those with children. "I didn't lose because I was a woman," Greuel told the rapt audience, "but gender was not a benefit."
Greuel said during her campaign she was asked if she could be a "good mommy" and a good mayor, a question a man would never be asked. "No matter what directive is followed, the response [a woman makes] will be construed as incorrect," Gruel said.
Women are clearly scrutinized more than men when they run for office, she added. They are often rated on "likability" and looks while men are not.
Even after changing her image in a series of photographs, Greuel found she was judged as either not feminine enough or too feminine. "Did the guys have to do that? Did they look at what they wore?" she asked.
"Unless you have women in positions of power, people who look like you and me, we will never reach our full potential," Greuel said. "Whether in politics or corporations, women bring a different dialogue to these conversations.
"I believe that we can smash the double-bind dilemma. We can't wait for attitudes to change. We need to change attitudes," Greuel said.
About the Network of Executive Women
The Network of Executive Women is the retail and consumer goods industry's largest
women's leadership organization, with more than 8,000 members representing 700 industry companies. The Network has 95 national sponsors and 20 regional groups in the United States and Canada. It hosts dozens of local events and two national conferences each year. For more information visit http://www.newonline.org.