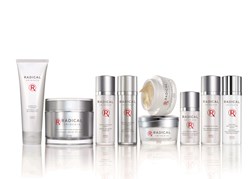 "Edgars is excited to be able to bring the cutting edge in skincare to our clients. Radical truly is the best kept secret in the battle against the effects of aging."
Johannesburg, Gauteng (PRWEB) October 28, 2013
Exclusive to the Edgars cosmetic range, the enhanced anti-aging power of Radical Skincare is now available in South Africa. Proven to provide 300% greater antioxidant protection than other leading brands, Radical is known for its strong skincare with greater potency which produces significant results. Developed by Liz and Rachel Edlich, the Radical product range is also Paraben free and suitable for all skin types.
Regarded as the most powerful anti-aging skincare range on the market, Radical's greatest strength lies in its cutting edge formulation. Combining three classes of active ingredients in its unique Trylacel Technology, antioxidant repairing anti-aging actives and soothing skin ingredients, the skincare range has a triple action – prevent, repair and soothe – capability.
Radical Living
More than just a range of skincare products, Radical is a way of life which stems from the desire to inspire individuals to go above and beyond and make a real difference in their sphere of influence. Excited about bringing their radical way of living to South Africa, Liz and Rachel Edlich want to help women create a radical life that they love, living with liveliness and passion that keeps them young.
Product Innovation
The Radical skincare range currently consists of nine different products, the most iconic of which is the Peptide Infused Antioxidant Serum (R1650) which has been proven to increase collagen and elasticity in weeks. When utilised together with Radical's Anti-Aging Restorative Moisture which increases the skin's moisture by up to 66% in just two weeks and decreases wrinkle depth by up to 50% in just four weeks (R1300), it's the cutting-edge solution to aging we've all been searching for.
The Radical Hydrating Cleanser (R400) represents the perfect balance between cleansing and hydration. It's non-irritating, non-drying formula provides the skin with maximum anti-aging benefits.
Equipped with an advanced AHA and BHA-based formula, the range's Age-Defying Exfoliating Pads (R650) are highly effective in removing dead cells, promoting cell turnover and accelerating the performance of the rest of the range's products.
Eye Revive Crème's (R1100) multi-tasking treatment is the answer to puffiness, dark circles and fine lines. Its all-in-one treatment refreshes and revives.
Proven to tighten skin and improve elasticity, the range's Firming Neck and Décolleté Gel (R1100) firms brightens and smoothens the neck and décolletage area.
Instant Revitalising Mask (R725) is a multi-functional face mask which restores, stimulates and boosts radiance.
Infused with 17 active potent ingredients, Radical's Youth Infusion Serum (R1500) not only protects and hydrates skin, but also acts as a firmness enhancer.
Best Kept Secret
Edcon General Manager, TJ Van Rooyen, is very enthusiastic about Radical's arrival on the South African market.
"Edgars is excited to be able to bring the cutting edge in skincare to our clients. Radical truly is the best kept secret in the battle against the effects of aging."
Radical's full range of products is exclusive to Edgars and will be available in select stores. For more information go to http://www.radicalskincare.com
Star Facts:
Celebrities that have used Radical Skincare include:

Jamie Lee Curtis
Eva Longoria
Jane Fonda
Melanie Griffith
Demi Moore
Shirley MacLaine
Kate Hudson,
Steven & Nancy Spielberg (Film Producer)
Richard Krajicek (Tennis Star)
Julie Tussey (Celebrity Makeup Artist)
Pat McGrath (Celebrity Makeup Artist)
Steven Meisel (Fashion Photographer)
Glenda Bailey (Editor-In-Chief Harper's Bazaar)
ENDS.
About Edcon
Edcon is South Africa's largest non-food retailer, with a market share of the South African clothing and footwear (C&F) market nearly twice that of its nearest competitor, trading through a range of retail formats. The Group has grown from opening its first store in 1929, to trading in 1,233 stores (at March 2013) in South Africa, Botswana, Namibia, Swaziland, Lesotho, Mozambique and Zambia. Edcon has been recognised as one of the top companies to work for in South Africa and continues to make significant progress in its employment equity and transformation goals.
Our retail businesses are structured under three divisions: Edgars division, including Edgars, Boardmans, Edgars Active, Edgars Shoe Gallery, Red Square and the Group's mono-branded stores such as Topshop Topman, serves principally middle and upper income markets; Discount division including Jet, JetMart and Legit, serves principally middle to lower income markets; and CNA, the Group's stationery, books, games, movies, music, hi-tech electronics and mobile retailer. The Edcon Credit and financial services division provides credit and insurance products to the Group's customers.
With the launch of its Thank U loyalty program, Edcon now has the largest retail customer database in South Africa with approximately 9 million customers. This enables Edcon to provide customers with relevant offerings across its suite of retail and financial services products.
For more information, please visit the Edcon website: http://www.edcon.co.za
About Edgars
Edgars is the Department Store of Choice for Men's, Ladies, Kidswear, Footwear and Accessories for every occasion as well as leading Cosmetic brands from around the world including GOSH Cosmetics, Nails inc, Sampar, Korres, Radical Skincare, Greenland and Kings & Queens. Showcasing the widest range of the latest's fashion trends from top international brands to own private label brands; Edgars offers something for everyone. There are 181 Edgars' stores in South Africa including neighbouring countries.
For more information, please visit the Edgars website http://www.edgars.co.za