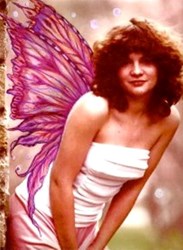 "Sherry Carroll is a real life Penny Lane and one wonders if she hasn't got Cameron Crowe or Lester Bangs hidden somewhere in her suburban basement."
Gaithersburg, Maryland (PRWEB) October 10, 2013
Sherry Carroll's funny, smart, sexy, story will prove to us all beyond a doubt Even Rock and Roll has Fairy Tales and evidently, Eric Burdon does too. This book is bulging with behind-the-scenes debauchery, oozing with outrageous antics and overflowing with attitude. She's spilling all, from her soft heart and old soul, along with the beans and of course, the wine.
"With the sounds of Rock and Roll and Sherry's intoxicating laugh moving you through every memory—you're sure to be captivated by this one-­‐of-­‐a--kind, episodic memoir. A coming of age tale that features love, humor, and a woman in love with life. Unlike many Rock and Roll memoirs, this one doesn't start with specific ambitions that involve groupies, fame and drugs. The fun, sexy, sassy Sherry Carroll, starts by telling us how she "bought a ticket to ride on the 'American Dream,"" said Penn Book Review.
Our Sherry doesn't toss glitter in your eyes or sprinkle fairy dust to try to disguise the dirt under the rock in the 1970s and the 80s. Although she's never forgotten that "Once upon a time.."
"I was struck completely deaf, dumb, blind, and stupid by the size of the stars Eric Burdon put in my eyes. But rock and roll is bound to break your heart, ruin your life and destroy your soul sooner or later, if it didn't kill you first. However, odds are it would do them all, eventually," she says in her book.
"What a well-written gritty story of backstage Rock and Roll life. A no holds barred story of backstage barbarism as well as great kindness. A Riveting book" said reader Joe Smart
I loved it. I stayed up all night reading it - I really couldn't put down the Kindle! I was one of those women who watched "Almost Famous" and laughed at how accurate it really was. I was in the middle of it all - in my years in Rock Radio - and I really connected. Everything Sherry said about groupies, back stage environment - and the changes that have gone on - is really true! Sometimes for the worse. Sherry's experiences were fun, crazy, and wild - and Sherry nailed it!" said reader Laurie Loomis.
"Read it. Dream it. Be it…. Don't hesitate. Leap into this life and enjoy it without taking the risks Sherry Carroll did…you can thank her for it later!" said reader Maria Waters.
More information and the first chapter of this must-read can be found on her website http://www.evenrockandrollhasfairytales.com/
The full book can be purchased in all Electronic/ E- book Formats here or on Amazon and at most other E- book retailers.
About the Author: The Shiny Happy Sherry Fairy is busy living happily ever in Maryland and on Facebook at Sherry Carroll Books. Still flying high, fast and furious, as always, covered with curls and cavorting with wild animals, writing short stories and furiously scribbling her second book, "Once upon a time a little girl dreamed…" an epic new-ish true-ish rock tell-all extravaganza! http://www.sherrycarrollbooks.com
Even Rock and Roll has Fairy Tales: The Flight of The Shiny Happy Sherry Fairy Sherry Carroll's debut memoir is the story of a young girl under the influence of sex, drugs, rock and roll and the charm of charismatic singer Eric Burdon, legendary front man and star of the seminal British invasion band The Animals. "Sherry Fairy's dreams have the unique ability to carry her to places that the average person wouldn't imagine—living vicariously through her life of mayhem, music, and madness is completely energizing and fun. It seems that the music, wind, and passion carry her to places that birth terrific stories for a memoir. And in this biographical account, you won't have to "just wonder" about the things that happen when a big-­‐time rock star and a small town girl meet. Leaving you certain that dreams, no matter how ridiculous, are worth pursuing—because they just might lead to some mesmerizing music, interesting men, and hot adventures. Sherry is ridiculously fun, smart, and sassy. Her memoir, overall, is funny, fast-­‐paced and episodic," Penn Book Review. Available here in all electronic/E-book formats at Amazon and most other e-book retailers.