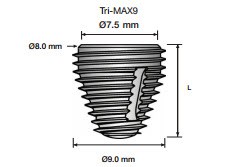 "New dental implants mimic back teeth so well - they look almost the same." - Dr. J Penchas
Houston, TX (PRWEB) October 12, 2013
Dental implants always came in many sizes. Over the years, the sizes were always smaller then the size of a back tooth (molar).
The reasoning behind the smaller sizes was the fact that in many people the molars were removed long ago - and with the teeth removed the jaw bone had shrunk and had little bone for an implant.
Manufacturers thus had to use smaller and smaller implants to fit the existing bone.
In recent years, dentists have learned that the best time to replace a back tooth with a dental implant is on the day that tooth has to be removed.
Maxi Implants are new dental implants that mimic the size of the larger back teeth - the molars. When the molar is removed, Dr. Penchas fits the implant that most closely resembled the root of the tooth removed - and implants it in the hole created by the extraction.
The result? A molar shaped implant that fills the hole and allows Dr. Penchas and his team to make a replacement tooth that closely resembles the original tooth.
Midtown Dentistry is proud to work with the leading molar replacement dental implants - the Tri-Max by Southern dental implants.