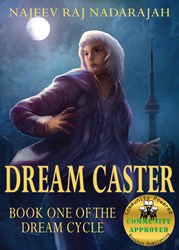 "This book is the start to a YA fantasy series that readers will really want to speed through, and then read again and again," editor Melissa Duclos-Yourdon explained.
Edmonton, Alberta (PRWEB) October 07, 2013
Bookkus Publishing will release its first book on September 3, 2013. DREAM CASTER, a young adult fanasy book, by Najeev Raj Nadarajah was previously self-published and received positive reviews on Goodreads, which brought it to the attention of the start-up crowdsourcing publisher. Bookkus has revolutionized the approach to publishing, using a community of reviewers to choose which of the books submitted to its website should be published. DREAM CASTER, which was submitted to the site in March 2013, will be published in paperback and eBook in early September, after receiving 4.2 stars from the Bookkus community of readers.
Though Nadarajah had previously self-published the book, which received positive reviews on Goodreads and Amazon, teaming up with Bookkus will allow him to get his Young Adult Fantasy series into the hands of more readers. Bookkus will provide Nadarajah with professional editorial services, and a comprehensive marketing plan, including social media, book reviews, author interviews, and book contests.
DREAM CASTER is the first book in the Young Adult "Dream Cycle" Series. The second installment, DREAMWEAVER, will be published in January 2014. Nadarajah is still at work on the third book in the series.
DREAM CASTER tells the story of sixteen-year-old Weaver, who is haunted by memories of his massacred settlement, and seeks cover in a hidden refuge among the remains of a ruined city. In the midst of building a new life, Weaver discovers that he has the amazing power to cast his dreams into reality. Convinced it's just an anomaly, Weaver ignores his new power, until he learns of a mysterious man who shares the ability, and uses his power to bring nightmares into existence and wage war on the world. The peaceful life Weaver hoped for begins to unravel as waves of chaos begin to break loose about him. In a race against time, Weaver must learn to accept his role as a dream caster and master his new power, before his new home is destroyed and humanity is pushed to the brink of extinction.
"This book is the start to a YA fantasy series that readers will really want to speed through, and then read again and again," editor Melissa Duclos-Yourdon explained. "Nadarajah is a visionary author; the imaginative world he builds and the compelling characters he creates in DREAM CASTER are a testament to that."
Readers from the Bookkus community agree, stating that, "The author has a very vivid imagination and a wonderful way of laying out his imagery through words." – Mona diCapera, Bookkus Reviewer. Another reviewer sees a place for the book among other popular dystopian fiction, explaining that, "…the plot is well-paced, the characters likable, and the story line unique." – Nicole, Bookkus Reviewer.
Nadarajah resides in Toronto, Canada, where he works as campus security for the University of Toronto. He is a post-apocalyptic research enthusiast, a strategist, a wordsmith, and a decorated hockey goalie. He has a post-graduate degree in publishing, studied English at York University, and was elected team captain and valedictorian at the Canadian Law Enforcement Training College. Learn more about Nadarajah by visiting his website at http://www.nrnadarajah.com.
Bookkus Publishing is a Canada-based company publishing eBooks, Hardcovers, and Paperbacks in the United States, Canada, the UK, and Australia. Launched in September 2012 , Bookkus is a crowdsourcing independent publisher, using a community of reviewers to read unpublished or self-published books and give them a rating. If books are rated highly enough the company opens up a forum for discussion among its readers. If those involved in the forum decide that the book is ready to be published, Bookkus reaches out to the author, providing a publishing contract and editorial services. Bookkus Publishing accepts unsolicited submissions from all authors; all submissions that have been carefully edited are made available to the Bookkus community of reviewers.
In March 2013, Bookkus Publishing expanded its marketing abilities with the start-up of Bookkaholic Magazine. A book magazine focused on new book reviews in order to bolster its marketing for its new books.
DREAM CASTER is Bookkus Publishing's first book. Currently the company has two more books in production: AGONY OF THE GODS and SEER. For more information about the book or company, please email company founder William Yatscoff at general(at)bookkus(dot)com, or visit the company website: http://www.bookkus.com.