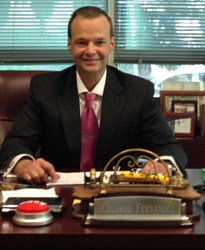 (PRWEB) October 24, 2013
Entering the 3rd Quarter, AIO has increased a total of 53% from last year. "Because the company concentrates in FHA & Conventional, rising rates have not affected AIO with the business plan and approach used towards residential financing," says CEO Eddy Fernandez.
AIO believes that foreign nationals' buyers will create over 2 billion dollars in closings in the next 10 years. AIO sees the foreign national buyers as an important part of our real estate market.
The Consumer Financial Protection Bureau (CFPB) acted in January of this year to define QM and QRM and is scheduled to start new rules and regulations starting January 10th 2014. "AIO doesn't see these regulations as a challenge to affect the growth of the real estate market," says Eddy Fernandez.
AIO is positioned to give realtors, developers and borrowers all the programs needed to have a successful closing and make the American Dream for their borrowers come true.
Questions and Comments:
Call Eddy Fernandez, CEO
Direct # 305 281 1862
Why All In One Mortgage Lenders LLC
AIO is your place whether buying a first home or refinancing your current loan. Our staff has over 100 years of combined experience serving the real estate and building industry of Florida. As Members of the South Florida community, the team at AIO Mortgage Lenders understands the special needs of our community. We know it is important to our buyers to take advantage of new opportunities and rapid changes in a timely manner. AIO takes great pride in our strong relationships and ensure that our customers receive the highest level of service from our Team. At AIO Mortgage Lenders we provide constant communication with your Realtor/Builder. We have earned our excellent reputation by opening more doors to homes in our community that your average lender possibly could. We at All In One Mortgage Lenders are open to help you close!