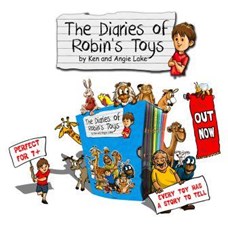 Leicester (PRWEB UK) 9 October 2013
Global books distributor Snazal Books Wholesale has nominated The Diaries of Robin's Toys for their 2013 Best Children's Books Award and is pleased to announce the 10-book set is now available to order from the Snazal Books website.
The Diaries of Robin's Toys follows the tale of a boy called Robin, whose magical second-hand toys come alive to tell their own stories, teaching him important life lessons about humility, confidence, friendship, courage and cooperation. The five star award-winning collection brings to mind the relatable and endearing characters of the Wimpy Kid series and is set in a magical world of enchanted toys, similar to the Toy Story films.
The box set includes popular titles such as: Roger the Reindeer, Geraldo the Giraffe, Leon the Lion, Gavin the Gorilla and Snuffles, Taffy the Rabbit, Clarence the Camel, Donkey Hoo-Tee, Carlos the Cod, Carla the Cow and Bertie the Bee.
The series is ideal for readers aged seven and up and, like the Wimpy Kid books, includes vibrant and engaging pictures on every page. The Diaries of Robin's Toys can be purchased from major book shops worldwide and online on snazal.com.
About Snazal
Since 2006, Snazal has grown to become a worldwide book distributor, supplying independent bookstores and other small business venues with specially selected, handpicked titles. Snazal offers more than 500,000 books on a variety of topics, ranging from children's interests and history, to educational books and trade publications. To date, this UK-based supplier has worked with prestigious distributors and publishers to serve more than 1 million customers worldwide.