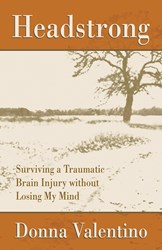 Anyone interested in the triumph of human spirit and mind will enjoy this book immensely.
Dallas, Texas (PRWEB) October 14, 2013
New book "HEADSTRONG: Surviving a Traumatic Brain Injury without Losing My Mind" (Brown Books Publishing Group) by Donna Valentino, offers readers a journey of unwavering hope, courage, and determination.
On February 7, 2009, Donna's life as she knew it was turned upside down.
In the throes of a new relationship, she was enjoying a weekend vacation at an isolated woodland resort that offered the perfect setting for romance.
Having just completed a long hike, the young couple challenged each other to an ATV ride across the open terrain. They started off energized, excited, and ready to explore. The adventure that followed however, was something few could anticipate.
After successfully crossing several cattle guards, Donna failed to see an unmarked and almost invisible chain, resulting in a crash that sent her flying into the air.
The ATV landed on top of her, crushing her face, damaging her organs, and leaving her with what was later diagnosed as a traumatic brain injury. In an instant, her lovers' weekend had turned into the worst nightmare of her life.
After forty-nine days in the hospital, followed by months of rehabilitation and a courageous battle to regain her life, Donna wrote "Headstrong: Surviving a Traumatic Brain Injury without Losing My Mind" (Brown Books Publishing Group), to share her remarkable journey of unwavering hope, courage, and determination.
Through her words and those of her companion on that day, as well as her children, family, and friends, she recounts her self discovery of a practical and positive outlook on life––and her adaptation to a new life with limitations.
"I survived a traumatic brain injury, because my competitive, stubborn, and headstrong nature wouldn't hear of it any other way," Donna says. "Now that I think about it, that sounds exactly like me."
"Patients' stories are often left untold," says Donna's brain surgeon Abdolreza Siadati, MD, Fort Worth Brain and Spine Institute. "Ms. Valentino's story is one of a remarkable recovery, the rise of a phoenix from the ashes."
Dr. Cyrus Peikari, doctor of internal medicine adds, "Most people I know are too scared, too emotionally paralyzed to face their demons. I was astounded that Donna was one of the few who broke free of her mental bonds. She literally glows with an inner radiance and beauty now."
The topic of traumatic brain injury (TBI) is frequently addressed in the media nowadays. We hear stories about professional athletes who blame concussions sustained during their career to the deterioration of their brain. We read stories about US troops who have suffered severe brain injuries from bomb explosions while serving our country overseas. Other TBI headline makers include ABC News anchor Bob Woodruff and Congressman Gabby Giffords.
These people have brought the topic to the forefront of our attention. Donna Valentino brings the issue into our hearts and minds with her compelling story of fierce bravery and headstrong determination. By sharing her personal journey of recovery, Donna aims to motivate others who have suffered TBI and are currently experiencing the difficult and excruciating process of healing––physically, emotionally, and spiritually.
To learn more, visit: http://www.DonnaValentino.com.
Books are available online and in bookstores.
About the Author
Donna Valentino was born and raised in Queens, New York. After graduating from high school in 1979, she worked full time at various companies. She married in 1987 and had two children, Nikki and Jordan. She coached her son's soccer team, managed both kid's basketball teams, and stayed active in the PTA. She also played tennis on a team with good friends for seventeen years.
As the result of her traumatic brain injury, all the physical activities she once treasured became impossible. After years of recovery and rebuilding her life, she wrote "Headstrong" as part of a new beginning. Donna lives in Dallas, Texas.
About Brown Books Publishing Group
Brown Books Publishing Group is a Texas-based independent publisher. To learn more, visit: http://www.brownbooks.com.
# # #