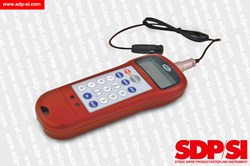 Fast, Accurate Tension Readings
New Hyde Park, New York (PRWEB) October 07, 2013
SDP/SI provides a convenient, hassle-free way to test belt tension. The Gates® Sonic Tension Meter 507C is compact, light and easy-to-use. The Sonic Tension Meter works on the theory that belts, like guitar strings, vibrate at a particular natural frequency based on mass and span length.
Here's how it works:
Enter the belt mass constant, belt width and span length into the meter. Hold the meter alongside the belt span, then strum the belt to make it vibrate - it's that simple. The meter will measure the vibration and convert it into belt tension.
The Sonic Tension Meter is suitable for multi-ribbed belts, V-belts and synchronous belts. The output readings are measurable in hertz, pounds, kilograms, and newtons. It has an LCD backlight and a cord sensor, and other optional accessories are also available. Because the meters are so versatile, accurate and simple to use, less time is wasted on setup and maintenance of the belt drive system.
SDP/SI is a leading manufacturer of small mechanical components, servicing a wide variety of aerospace, medical and commercial industries for over 50 years. Quotes, online orders, and 3D CAD Models are available on our updated e-store at http://www.sdp-si.com/estore. SDP/SI offers over 130,000 small mechanical components, including gears, belt and chain drives, shafts, shaft accessories, bearings, couplings, universal joints, vibration mounts, miscellaneous components, hardware, gearheads and speed reducers, right angle drives, brakes and clutches, motors and gearmotors. For additional information about SDP/SI, please visit http://www.sdp-si.com.
Stock Drive Products / Sterling Instrument (SDP/SI), 2101 Jericho Turnpike, P.O. Box 5416, New Hyde Park, NY 11042-5416. Phone: 1-800-819-8900 | 516-328-3300 • Fax: 516-326-8827.