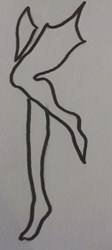 (PRWEB) October 04, 2013
At scantihose Inc. we make hosiery engineered to move with the body. Most women love to wear hosiery but many don't, mainly because of the fit. Pantyhose and Stay-ups tend to sag, run easily and just can't keep up with their active lives, and both these products have important health problems due to enclosure of the body or restriction of blood vessels in the legs. For persons with balance problems, another advantage is that Scantihose can be put on from a sitting position. Scantihose, at http://www.scantihose-co.net is a healthy choice for the body.
The basic problem with normal pantyhose is the fit. On the body the distance from the waist to the back of the knees increases 20 to 40 per cent when sitting or kneeling. That drags down the waist of the pantyhose. Bending the knee increases the strain in the same way. Because Scantihose hangs from the hip the tension tends to be slightly released as a person sits or bends.
Women love Scantihose. They are discovering it's great to look like a woman again and be comfortable too! To assist in fitting: wet the hands slightly and smooth the hose up the legs, right up to the bikini line and across to the side of the waist, where they attach to the belt. Panties worn over the Scantihose means comfort all day and no "upping and downing" as with pantyhose.