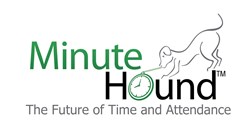 MinuteHound utilizes cloud technology to ensure that all data is kept under the tightest security
New York, NY (PRWEB) October 22, 2013
One of the biggest sources in lost revenue for businesses is from employee time card manipulation. However, MinuteHound has arrived to put an end to that once and for all. MinuteHound is a revolutionary new software that is capable of work tracking that completely eliminats time theft in any workplace it is used. It uses biometric fingerprint technology to ensure that there is never any mistaking the identity of the employee who is punching in or out.
Patented identification technology enables all employees to clock in and out using an electronic device connected to a computer. The employee will place his or her finger on the device. While MinuteHound does scan the fingerprints of employees, it does not store them. Therefore, there is no reason to be concerned about personal privacy being invaded. This is why it is perfect for government workers who value privacy and strict security standards.
The employee's fingerprint is encoded into a binary code that identifies the person. The data of the employee's identity, as well as when they clocked in or out, will instantly be stored and processed remotely in a secure location. MinuteHound utilizes cloud technology to ensure that all data is kept under the tightest security. The system is ideal for use with city and state government employees.
Unapproved overtime, time clock manipulation, time card errors, buddy punching and inefficient time and attendance accounting cost American businesses an estimated $148 billion every year, according to the American Payroll Association. Thanks to MinuteHound, all of these issues are a thing of the past. Payroll processing time is reduced by time and attendance reports that are automatically calculated and provided by MinuteHound.
If a business owner or manager is not a computer expert, there is no need to worry. The whole system is easy to use and only takes a few minutes to set up. There is no training required. Simply download the software, plug in the USB scanner, register all employees and start clocking them in and out.
Once MinuteHound is up and running, the user can simply log in from anywhere in the world to see real time information about who is on the clock, who is late and who left early. The only thing a person needs to access this information is an Internet connection. Government branches with multiple locations will be able to monitor all activity from a single terminal.
All of the information they will need to monitor their payroll is available at their fingertips. They can then adjust their staffing as they see fit. When dealing with staffing issues, time is of the essence. MinuteHound allows the user to find out what is going on with their business right now, instead of later when money has already been lost.
MinuteHound also keeps managers and business owners up to date while they are on the go. Alerts will be sent to designated people based on parameters that the user sets. These parameters can be changed periodically as needed. Because none of the data that MinuteHound uses is stored locally, there is no danger of it ever being tampered with or lost.
MinuteHound will enable a business to save an average of five percent on their payroll. It only costs pennies a day to use. City and state employees benefit from biometrics as well as management.
MinuteHound Contact Information
Website: http://www.MinuteHound.com
Email: info(at)MinuteHound(dot)com
Phone: (800) 351-7237