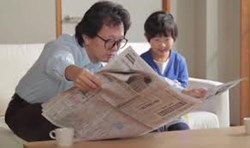 Advertisers will enjoy increased brand engagement...an average of 20 minutes solving time.
(PRWEB) October 08, 2013
Kids Across Parents Down, LLC, America's leading family and educational crossword puzzle, will partner with Kidsville News!, a fun, family newspaper that promotes education, reading and good character traits in young children in grades K – 6, to offer sponsored content opportunities to businesses interested in reaching the family and educational community on a national platform.
This will be the first time sponsored content will be offered by Kids Across Parents Down in Kidsville News! on such a broad scale. The goal is to build community, parents and teacher involvement in the education of our young people. The puzzle, Kids Across Parents Down, is unique in that the child solves the across clues that are fun and attainable at their level while the parent clued are written at a more adult level but remain highly solvable. Moreover, the puzzles correlate to the national core standards and are easily transferable between home and the classroom. According to Jan Buckner Walker, President of Kids Across Parents Down, companies launching a branded crossword content campaign will observe several consumer behaviors not seen in typical print ad campaigns including:

Interaction with your brand in a focused and memorable way, high child/parent quality time quotient.
Dramatically increased brand engagement including a "double exposure" advantage where parent and child spend an average of 20 minutes solving a puzzle and then again when consulting the solution grid.
An amplified brand experience for children that links your brand with "fun."
According to Buckner Walker, "Kids Across Parents Down is all about family fun the colorful clues and themes engage, excite, educate and entertain kids and adults and because of this they have become a favorite of teachers all over."
Launched in 2003, Kids Across Parents Down has built national brand recognition and reaches more 10 million readers from coast to coast. Well known partners including The Chicago Tribune, the Los Angeles Times, McDonald's Corporation, Costco and Cracker Barrel Restaurants have successfully featured and/or licensed Kids Across Parents Down puzzles in connection with their brands.
Bill Bowman, Publisher launched Kidsville News! in 1998 has a proven 15-year track record as a profitable and valuable reading and educational resource serving young children, teachers, parents and guardians. With publishers in ten states, a monthly circulation of more than 600,000 and a readership of 1.6 million, Kidsville News! is recognized nationally as a quality children's publication by the Parents' Choice Foundation and received the National Parents' Choice Award in 2008 and 2012.
According to Bowman, companies benefit from advertising content on the pages of Kidsville News! in a variety of ways including:
The Unique readership includes not only children, but their parents, teachers and guardians
On average, each copy of Kidsville News! is read by 2.2 adults (parents, grandparents, educators, etc.)
91% of Kidsville News! demographic are between the ages of 25-54
71% of readers have either contacted or utilized an advertiser or sponsor seen in Kidsville News!
79% of readers said they would be more likely to buy from a specific business and/or brand after seeing their advertisement in Kidsville News!
57% of all copies of Kidsville News! are kept in the household for one month or longer
Kidsville News! provides a monthly opportunity to build brand equity with teachers, children and their parents
As their spending power increases and their influence over peers and parents grows, Kidsville News! is the most powerful and credible medium shaping young minds and young consumers
Kidsville News! offers advertisers a targeted, dynamic new way to speak to the opinion-formers and decision-makers of tomorrow.
Style/Type: Tabloid: Free Children's Literacy and Educational Newspaper Resource
Frequency: Monthly-Year Round (12 editions)
Readership: K - 6 grade students, educators, parents and guardians
Components of Kidsville News:
Monthly Fun and Educational Content
Local CVC Audits
Nat'l CVC Audits
Local Readership Survey
Interactive Website
Electronic Online Edition
National Readership*: 1,625,000
*2012 CVC Audit
Distribution: Racked: Free to schools, libraries, museums, theaters, YMCA's, after-school programs, summer camps. Anywhere children and families congregate.
The joint venture is scheduled to launch in November 2013. Questions about sponsoring a Kids Across Parents Down puzzles should be directed to Jan Buckner Walker at jan(at)kapd(dot)com. All other questions regarding Kidsville News! including subscription should be directed to Bill Bowman at bbowman(at)kidsvillenews(dot)com.
Kids Across Parents Down™ is an Illinois based multimedia company. We create content that reaches millions of people via newspapers, restaurants, magazines, apps and digital content. Like us on Facebook and follow us on Twitter and LinkedIn!