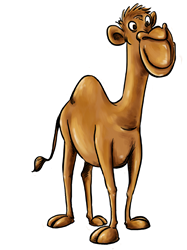 Leicester, UK (PRWEB UK) 10 October 2013
Clarence the Camel is a fast runner but gets ahead of himself when he starts boasting about his talent and, when things don't go his way, he ends up feeling humiliated. Now available to order from the Snazal Books website, this delightful children's book teaches young readers important life lessons about modesty and encourages youngsters to think before showing off to their peers.
Written by award-winning authors Ken and Angie Lake, The Diaries of Robin's Toys has been likened to the international best-selling series, The Diary of a Wimpy Kid – also available through Snazal Books. The series follows the story of a boy called Robin and his magical toys that come alive to teach him important values such as confidence and respect for others.
Clarence the Camel is included alongside other popular titles such as Carla the Cow, Roger the Reindeer, Leo the Lion and Carlos the Cod in an exclusive 10-book set available now through Snazal Books for a discounted price of £9.99.
About Snazal
Since 2006, Snazal has grown to become a worldwide book distributor, supplying independent bookstores and other small business venues with specially selected, handpicked titles. Snazal offers more than 500,000 books on a variety of topics, ranging from children's interests and history, to educational books and trade publications. To date, this UK-based supplier has worked with prestigious distributors and publishers to serve more than 1 million customers.